3.3.12 Note: You can still get the IHOP Breakfast after Dr. Seuss's Birthday. You still have time to head over!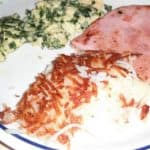 This Friday is Dr. Seuss's Birthday, so we've been reading a lot of Dr. Seuss books and thinking a lot about green eggs and ham. Looking for a little fun, we headed over to IHOP for the Lorax's Breakfast.
The kid's meals were $4.99 each, with no drink included. This is a little high, but the meals were huge.
Brooke ordered the Green Eggs and Ham and the Truffula Chip Pancakes. Joe had this, but replaced the pancake with the Rooty Tooty Bar-ba-looty Blueberry Cone Cake.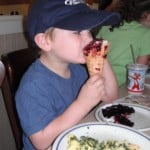 The Green Eggs are made with scrambled eggs and creamed spinach. The Truffula Chip Pancakes had sprinkles inside and out and a strawberry yogurt topping. And the Cone Cake was really amazing. It was a blueberry pancake that filled a sugar cone and was topped with blueberry compote. I refused to look at the nutritional content and was just amazed that such a thing existed.
I had signed up for the email club, HERE, the day before, and had a coupon for a free Rooty Tooty Fresh 'N Fruity or meal of equal value.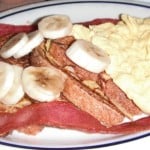 When I arrived at IHOP I was excited to see that this was worth over $7.00 and I could substitute for tons of other items on the menu. Since it was the same price, I ordered the Simple & Fit Whole Wheat French Toast Combo with whole wheat French toast topped with banana and served with scrambled egg substitute and two strips of turkey bacon. And I got it for free!
Some IHOP locations have free Lorax tree seeds, but not the one at 59 & Kirby. It was no big deal. The kids had a green eggs and ham feast and I ate for free.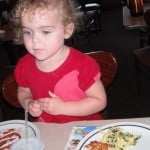 The next adventure will be The Lorax Movie, opening March 2, 2012.
If you missed my last IHOP Green Eggs and Ham post, check it out HERE.