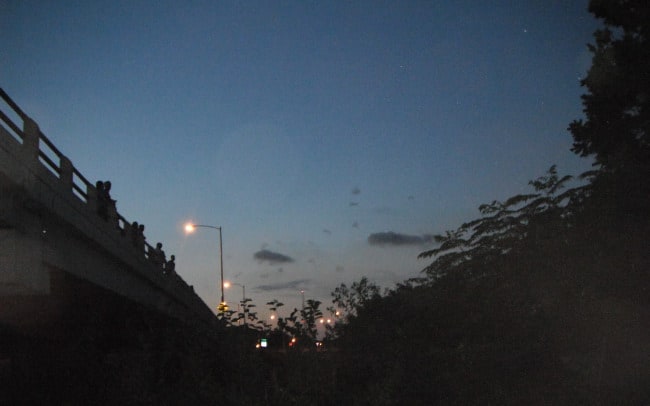 Address:
 Bridge at Waugh and Alan Parkway
Cost:
 Free!
Hours:
 Every evening at dusk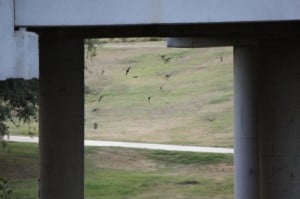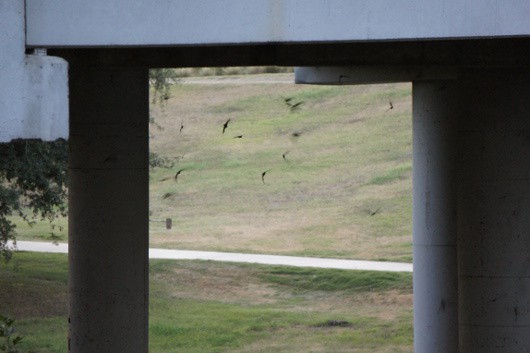 This is Alex!  My kids, ages 6 and 4, and I are on a mission to discover fun things to do in the Heights area. This week we visited the Waugh Bridge Bat Colony and thoroughly enjoyed it!
You can park in some of the parking spaces along Allen Parkway (arrive early for these spots, since space is limited). There is also parking available at Spotts Park. You can view the bats from either the north bank or south bank of Buffalo Bayou. However, I think we had a terrific view form the south bank (the Allen Parkway side of the bayou). The bats fly out from under the Waugh Street bridge around sunset, but you can still arrive early to read up on some of the facts that are posted on the south side of the bayou. There is also a viewing deck here where you can stand if you prefer that over sitting in the grass.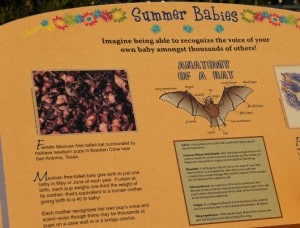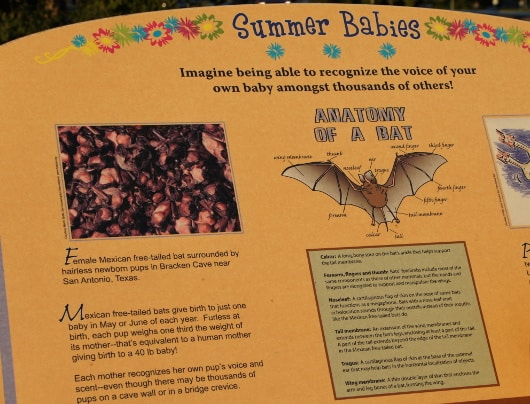 If you arrive 20-30 minutes before sunset you may even catch a bat presentation given by a volunteer from Texas Parks & Wildlife. These presentations are given on the viewing deck. And as an added bonus you can also take in a beautiful view of the downtown skyline from this platform. Even on nights when there is no scheduled presentation you can enjoy watching the bats begin to descend from under the bridge and gather before their nightly flight.  We arrived around 8:05pm and sunset was at 8:25pm the night we went. We actually stayed about an hour to see the bats as the bats do not all fly out at once but rather in groups.
There are a few rules to keep in mind, such as not standing under the bridge when the bats begin their flight, not using flash photography or screaming. This is to not disturb the bats as they begin their flight.  We packed a blanket so that we could be comfortable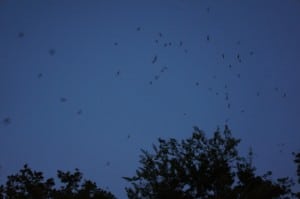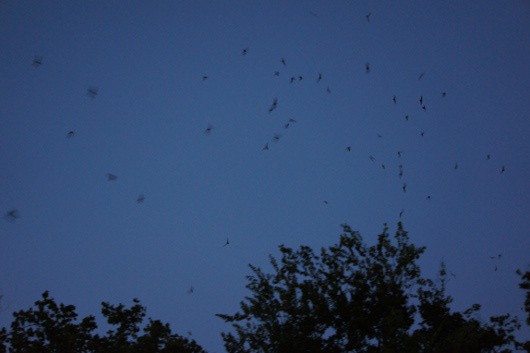 sitting on the hill while we waited. I also suggest taking bug spray. We forgot to put some on but didn't suffer too badly.  Perhaps it was due to the Mexican Free-Tailed Bats that we were so anxiously awaiting. This particular species eats insects, fruit and nectar, not humans. I had to reassure my 4 year old that they were not vampire bats!
This is a great experience for the entire family. My husband and I were just amazed that about 300,000 bats live under the bridge that we drive over almost daily. The kids were amazed to see so many bats flying at once, following the same pattern until they disappeared from sight into the city. You can go here to find out more information about the bat colony at the Waugh St Bridge. Go here for information on the next Bat Chats.
To see more reviews on the Waugh Bridge Bat Colony, go here!