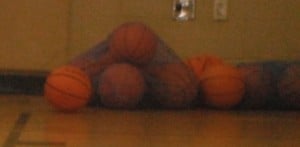 My kids are getting to be school aged and that seems to mean signing up for a series of summer camps.  Although my 5 year old, Joe, had attended a camp in the past, this year our eyes were opened to the fact that not all camps are created equal.
During our 13 week summer break, Joe attended 6 weeks and Brooke attended 3 weeks of camp.  Included in these were the YMCA Sports Camps and the Main Street Theater Camp.  Let me first say that all of these camps are different each week and really depend on the instructors, location and perhaps how the moon and sun are aligned.  Let me follow by saying that at Joe's first week of YMCA camp, that moon and stars were aligned for a terrible experience.
Joe was so excited for basketball camp that he couldn't sleep the night before it started.  I sent him with a friend to the local YMCA and when he came home, he hated camp and basketball.  I figured that he was just young and that he would like it better the next day.  But he didn't.  I finally went with him on Wednesday and saw why.  It was not appropriate for 5 year olds.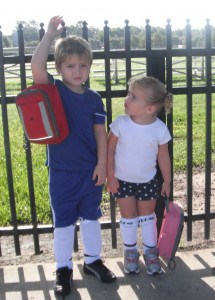 First, the rain had forced the baseball camp to join the basketball camp, making it very crowded and very loud.  Second, the kids were told that they could only go to the bathroom at set times, which is against everything that Elmo
has taught them. And, when someone started crying, they were told there is no crying at basketball camp.  Then there were the very loose sign out procedures which make my knees weak.  And, my biggest frustration was that there was a lot of yelling.  Most of the young instructors looked tired and irritated and just hollered at the kids, from the side of the noisy gym, when they did something wrong.  I wasn't expecting camp to be nurturing, but I did expect it to be age appropriate.
I am certainly, at times, an over protective mom but I also know a lot about competitive sports and good coaching.  I politely raised my concerns to the YMCA director who responded immediately.  The next day the camp director spoke with the instructors and seemed to infuse them with more energy.  Camp was not perfect, but it was not as scary.  And I'll also say that soccer camp the next week, with fewer kids and held outdoors, was a happier place.  Still, later in the summer I realized that there is no need to settle for a subpar camp.
After seeing Pinkalicious, my kids were very excited about theater.  Since there were still spots available, we signed up for the 2 week long Main Street Theater Camp.  At this camp, the kids play games, make crafts and write their very own play to perform for family and friends on the last day.  And it is organized.  We received several informational emails, forms and letters sent home by the teacher.  Drivers licenses are required for pick up and drop off.  Emergency information is provided and I felt confident that my 5 year old was in good hands.
My favorite thing about Main Street Theater Camp is that their values align with what we are trying to teach our kids.  If you follow this blog, you know about Joe's garbage can job and how he is learning to be responsible and reliable.  This is the same message being sent at camp.  On the first day, the kids were given a contact to review and sign with their parents.  Among other items, it said that there would be No Pickles.  When I asked Joe what he thought about this, he said that, "It doesn't mean that you can't put a pickle in my lunch box.  It means that, well, if I give the teacher my backpack to hold while I go to the bathroom and then the teacher got bored and decided to put it in the street and then a car ran it over, then I'd been without my backpack and in a pickle.  We don't want pickles at camp.".  The contract went on to explain that the other campers were relying on us to play our part in the big show and we couldn't leave them in a pickle.  An so "No Pickles" has become our new moto at home.
Theater camp has been a lot of fun for Joe and it's reinforced some good lessons.  I am happy to know he is enjoying his 2 weeks at a place that is secure, safe and even nurturing.
So tell me, in your opinion, what camps are the best and worst in Houston?