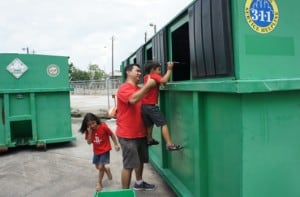 This is Alex!  This week the kids and I visited the recycling center on Center St. We visit this place often because although most of the Heights has their recycling cans, our block, along with a few others, still does not.  We are still using the bins.  So we take our overflow here about once a month.
The kids love it because we usually let them dump a few items. They come away with the understanding that this earth is theirs and we must take care of it for their future. Or at least that is how I make them feel responsible.
The kids have also learned what is and what is not recyclable. Although my 6 year old is quite the aspiring artist, we do on occasion have more than enough large pieces of cardboard for painting, gluing and coloring that absolutely must go, artwork or not!
If you go, be sure to take gloves and hand sanitizer.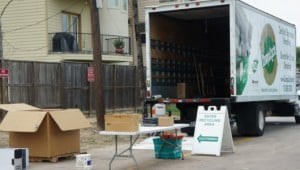 This little adventure is FREE and does not take a long time. You can save this trip for a time when you feel the need to get the kids out of the house for a breather.
Keep in mind when planning your trip that the 3rd Saturday of every month they will have a station for electronics recycling. In addition to cardboard, this center takes glass (clear, green and brown), aluminum and tin can, newspapers and magazines and plastics 1-5 and 7.
This center is very organized and has a bin for each of the above mentioned items. Before going, I think it would be fun to assign the kids the task of separating and sorting your items. This would also make it easier to dump at the center.
Even though this is a short trip, my kids always look forward to going. I always look forward to receiving their help on throwing out the trash! On most of our trips my son, who is 4, gets to see a trash truck up close. Which is always an added bonus since we miss the one that comes to our house most of the time. (He's always had a fascination with garbage trucks!
For more information on this recycling center go to their website HERE.