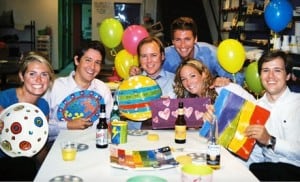 A side deal on GROUPON today is for the Mad Potter for pottery painting or party for eight or more.
For $10, you get $20 worth of pottery painting and studio fees ($6 for kids; $8 for adults).
For $75, you get $150 toward a pottery-painting party for eight or more people.
This could make for a cute homemade Christmas gift from your child.   If you purchase it, just act quick. This voucher expires 12/1/11.
From our own experience, I can say that Mad Potter is a fun outing for kids.  That said, if I purchase this, I'll likely take only my 4 year old because he can focus long enough to complete a project. Or, I'll take all the kids and when my 2 year old gets antsy, we'll pack it up and come back to finish our project.  We've done this in the past and the Mad Potter was very happy to store our masterpieces (and probably happy to get us out of the studio!).
The locations are listed below:
Neartown/ Montrose
1963 W Gray St., Suite A
Houston, Texas 77019
West Woodway & Voss
1341 S Voss Rd.
Houston, Texas 77057
Bellaire
4882 Beechnut St.
Houston, Texas 77096