Address:  5555 Hermann Park Dr, Houston,Texas 7703
Adult Ticket: $8
Child Ticket: (3-11 yrs): $7
Members: $4
Admission to the planetarium does not include admission to the permanent exhibits.
Appropriate Age:  No limits.  Whoever can sit through a 20 minute show.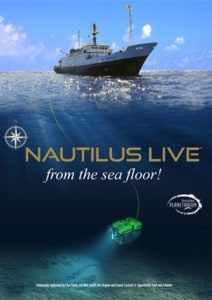 Until November of 2013, Houston Museum of Natural Science (HMNS) guests can see something new in the planetarium.  Instead of gazing at stars, patrons will be taken deep under water.
HMNS is following the Nautilus, a 211-food vessel, through the Gulf of Mexico and Caribbean as it maps "geological, biological, archaeological and chemical aspects of these regions to an astonishing depth of approximately 2,000 meters".
During the 20 minute show, at 1:00pm and 3:00pm, audiences learn about the Nautilus, the 2 ROVs, and deep water exploration.
My 5 year old saw the Nautilus on the cover of the HMNS magazine and insisted that we visit the same day.  All ages are welcome in the theater, but we coordinated with our baby's nap time to make it easier on everyone.
At HMNS, we were admitted to the planetarium 5 minutes before the show and took our reclining seats that allowed us to gaze at the ceiling. A staff member explained the program to us and showed us the equipment and underwater images.  One image was of the Titanic, which got my kids extra interested.
After 10 minutes of this, we connected with the scientists working on Nautilus via video conference.  They told us about the program…  AND then we got to ask questions.  My 5 year old bravely raised his hand to ask 2 questions which were answered just for him.
Since this is a live show, the material will change each day.  As the ship gets further along on the journey, we plan to go back to see what they have found.  Plus, my son has come up with more questions for the scientist… so you can bet that we'll be back a few times before it ends in November.
To learn more about the program, go HERE!