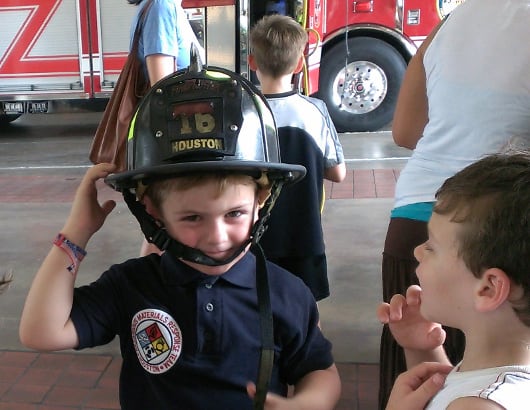 **Update:  This tour is FULL!  Don't worry, we'll set up more meet-ups this summer.  Maybe even some more Fire Station Tours!  SIGN UP FOR THE WAITLIST**
Calling all junior fire fighters! BigKidSmallCity is touring Fire Station 16 on June 13, 2014 at 10:00am. On last year's tour we had the opportunity to meet the fire fighters, sit in the truck, spray the fire hose and tour the station!  Join us as we do it again this year!
Since this is an active station, keep in mind that: "If for any reason the assigned station is unable to participate due to an emergency response call, you may not receive advance notice of their absence. If the station receives an emergency response call during the scheduled activity, they are required to proceed to the emergency, but will make every effort to return upon completion."
Last year the trucks left for a call and came right back. All the kids got to see the firefighters suit up and head out! Just be ready to have the outing not go perfectly as planned!
If you want to join us on June 13, 2014 at 10:00am, you must:
1. Fill out the form below.
2. Be one of the first 20 to respond. Spaces are very limited! You will receive an email saying you have a spot or you are on the waiting list.
3. If you get a spot, bring your little fire fighters to Fire Station 16 in Montrose (at Richmond and Dunlavy) on June 13, 2014 at 10:00am. The event is FREE. Feel free to bring a homemade card, some cookies or kitchenware* if you want to thank the fire fighters.
4. Make every effort to attend. Since spaces are so limited, we want as many little fire fighters to get a chance as possible. If you need to cancel, email me at Jill @ BigKidSmallCity.com.
*Last year the fire fighters said their kitchen was in need of pots, pans and gadgets!
The Tour is now full.  Join the wait list, and be notified of other BigKidSmallCity Meet Ups HERE.