I love Christmastime around Discovery Green!
There are art installations, a giant gingerbread house, the ice rink and lots of places to eat.  We park once and spend the evening at the park.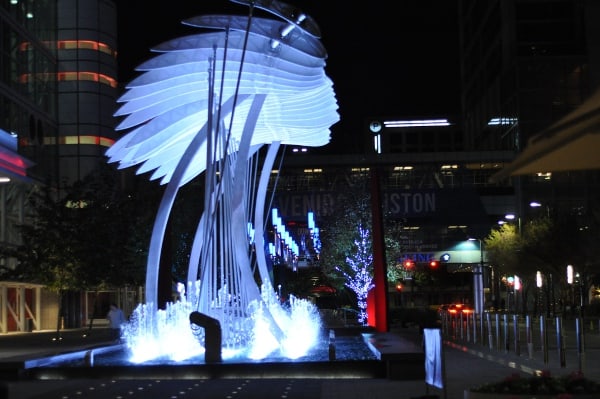 If you head downtown during the holidays, here are the things to do… and look below for a map: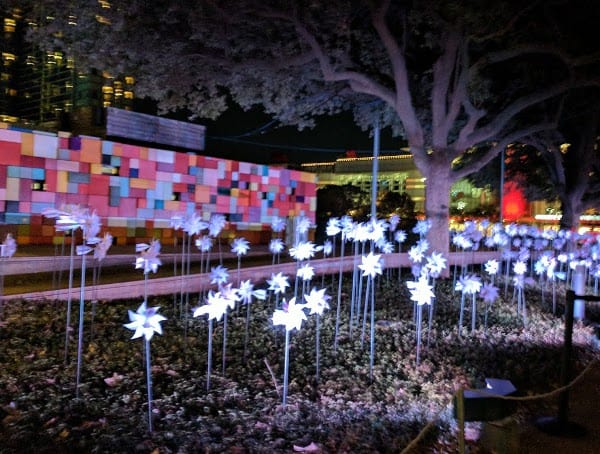 1.  Gust at Discovery Green
 (Free)
Walk along the promenade and see a whole lot of pinwheels.  You can "be the wind" and make them all spin.
There are four stations where you can play with the art. Each one has a single pinwheel on top of it, and if you blow it you will activate a powerful fan which will spin all the pinwheels in front of it. At night, the installation is illuminated by patterns of light, which respond in real-time to the changing direction of the breeze.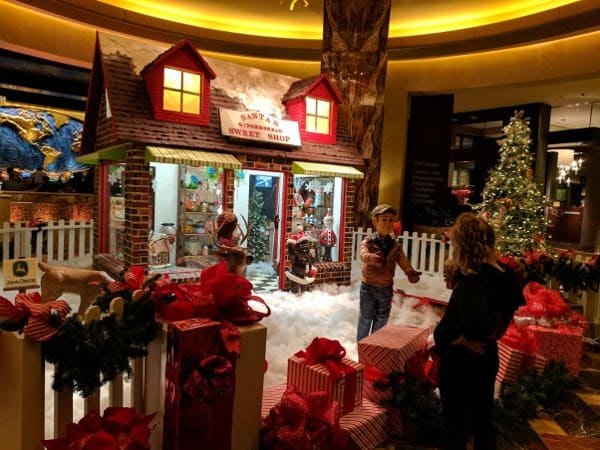 2.  Giant Gingerbread House at Hilton Americas
 (Free)
What is 7.6 Million Calories and includes 990 Eggs, 650 Pounds of Butter, 850 Pounds of Sugar, 800 Pound Gingerbread, 1,000 Pounds of Dark Chocolate and 725 Pounds of White Chocolate? And took 1,850 Man Hours to build?
It's the giant gingerbread house at Hilton Americas next to Discovery Green… and it's up now!  The display is free and in the lobby!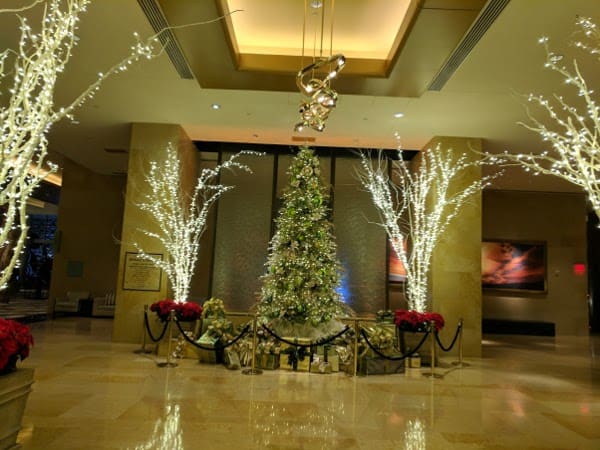 3.  Starbucks at Hilton Americas
The hot chocolate at the ICE is $4… so if your kids are going to insist on it, I'd bring your own or stop by Starbucks in the Hilton Americas.  The small size won't be much cheaper, but you can get a steamed milk or hot chocolate and enjoy it by the Hilton Christmas tree or Giant Gingerbread House.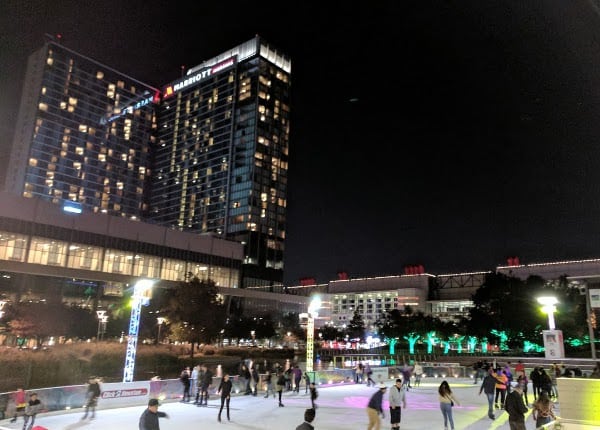 4.  ICE at Discovery Green
 ($15/person)
Each November, Kinder Lake is drained and replaced by the ice.  There is a large rink for all to enjoy, as well as a toddler rink for the littlest ones to practice.  Parents can hold the little hands from the edge… so you only have to wear skates if you want to!
Skates come as small as size 8. (It used to be smaller!) If your kids want to skate and you don't want to… you only have to pay for the kids.
Ice skating at Discovery Green will be open through January 2019.  Look for weekly events, including Cheap Skate Nights and Skate with Santa, on the BigKidSmallCity Events List.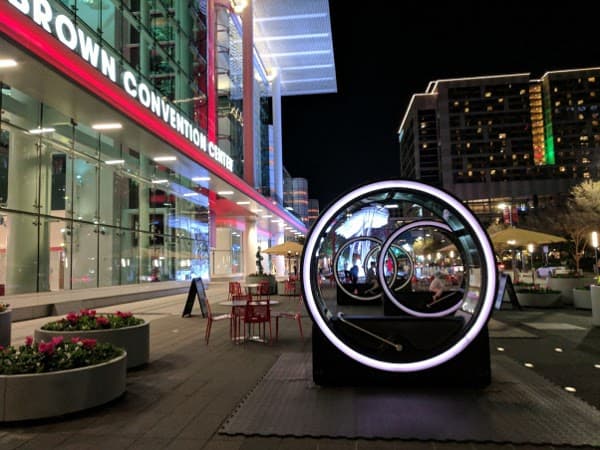 5.  Art at Avenida Houston at the George R Brown
 (Free)
This street was a construction zone for a long time… but since the Super Bowl, it is the coolest strip of art and restaurants.  Go see the musical fountain and LOOP!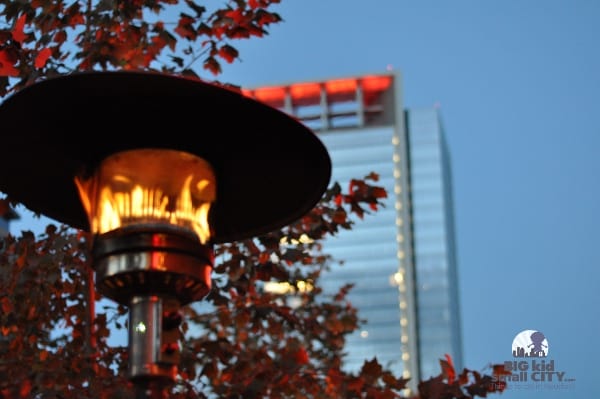 6.  Where to Eat by Discovery Green
If you're hungry, HERE are kid friendly restaurants by Discovery Green!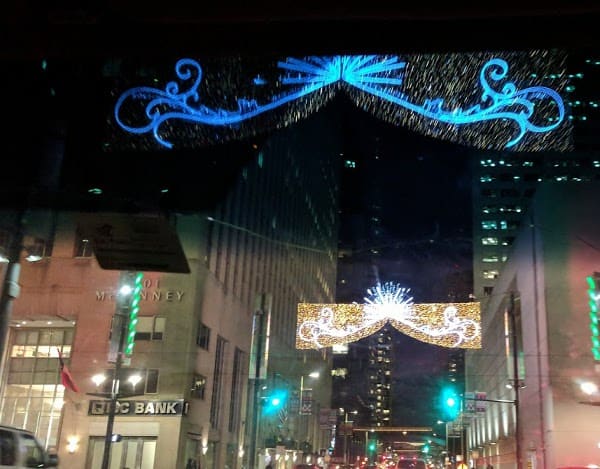 7.  Lights on Main Street
 (Free)
The streets along Main Street are all lit up with holiday lights… so as you drive out of downtown, take a look!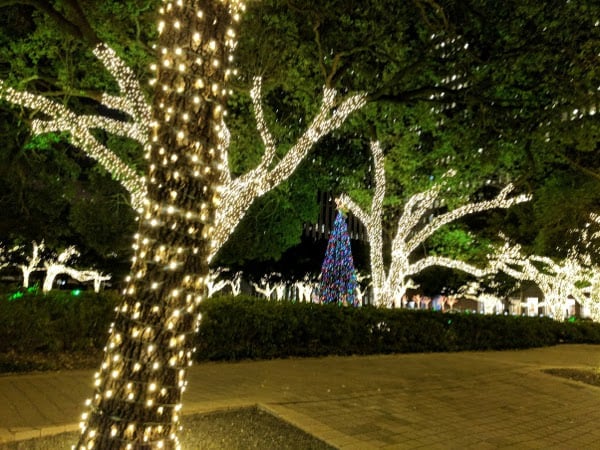 8.  City Hall Christmas Tree
 (Free)
This would be a long nighttime walk from downtown… but as you leave downtown, drive by to see the tree by City Hall!
Find more lights, shows and events around Houston, HERE!