Address:  140 Heights Blvd, Houston, Texas 77007
Cost:  Free!
Appropriate Age:  Any Age!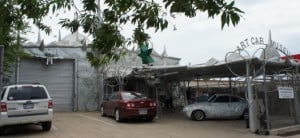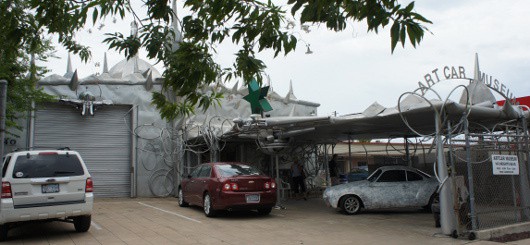 This is Alex!  My kids, ages 6 and 4, and I are on a mission to discover fun things to do in the Heights area. This week we visited the Art Car Museum and boy am I glad we did!
I can't believe I've put this trip on hold for so long! It's amazing and you can always expect to see something new. If you haven't been here yet, I strongly suggest you go. First of all it is FREE!
They are open Wednesday through Sunday, 11-6pm. From the moment you enter the gates you can see how they've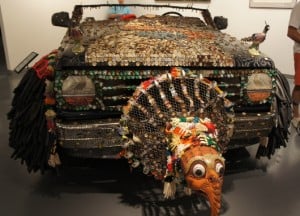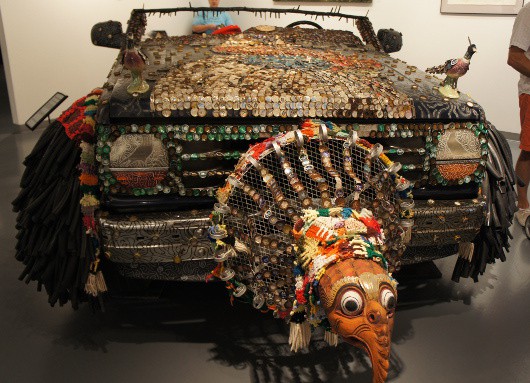 turned ordinary medal into creative pieces. From the skeleton biker to the design of the car port.
As you walk in to the museum you are greeted by a volunteer who will introduce you to the current art being displayed. They not only have art cars but they also have about 3 other artists' paintings and sculptures on display throughout.
The day we went we saw 2 of the 4 cars that took first place at the 2013 Art Car Parade. The 1 my daughter was a huge fan of was called "Tired & Feathered" by Joe Haden. This car was unbelievably detailed. The exterior was decorated in bottle caps, while the interior was decorated in colorful quilts and pillows. The tires looked to be covered by the inner tubing of bicycle tires. And I cannot forget the big turkey on the front bumper. I could totally see why this car took 1st place.
[Read more…] about Art Car Museum – A Free & Fun Thing to Do in Houston!