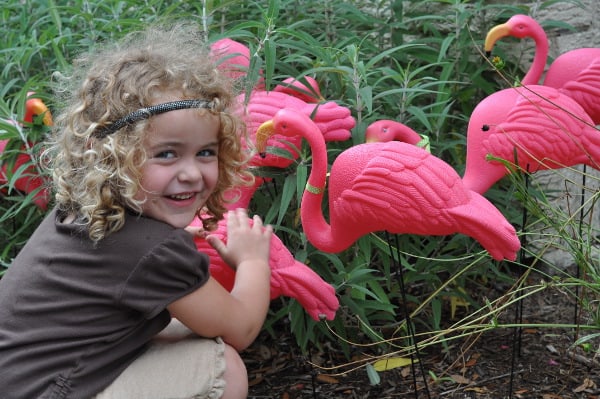 I was scrolling through the
Houston events
list looking for an easy and fun outing for the kids.  We needed to get out of house but didn't want to commit to a complicated adventure.  Glancing at the flock of tacky yard flamingos from our last party, it dawned on me that we could just make our own fun.
We grabbed our flamboyance of flamingos and sneaked over to our friend's yard.  We did our best to be quiet as we made their lawn the tackiest on the block, but it's hard to not giggle while installing a dozen flamingos.
Once the job was done (and I'm certain we were spotted out the window) we sprinted back to our car and laughed all the way home.  The kids talked about our shenanigans for days and we decided to do this again and again!
Do you want to help us spread the flamingo fun?  Here's what you need:
1.  Print out THIS sheet!
2.  Find your own flamingos (or pass on the ones you found in your yard)!  You can find some HERE
.
3.  Sneak over to your friends house, install flamingos, laugh and run.  For safety, only pass them to people you know well.  You can even call the parents ahead of time to approve your sneaky plan!
4.  Post your pictures to BigKidSmallCity's Facebook page or email them to me (Jill @BigKidSmallCity.com)!
If you found flamingos in your yard, you can be certain someone loves you and considers you the type of friend that won't mind a temporarily tacky yard!  You do not have to pass on the flamingos but do it if you think it might be fun!