Address: Old Town Spring. 103 Midway, Spring, Texas 77373
Cost: Reasonable
Appropriate Age:  Any age
Our Review: Wunsche Bros. first opened in 1902 as a hotel and saloon. It is still operating today as a very popular cafe and saloon. The interior is a rough saloon with lots of charm.   There is plenty of free parking on the streets of Old Town Spring or in the lots.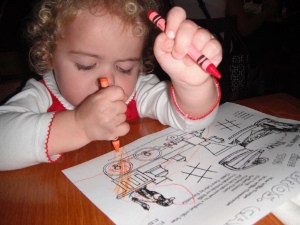 We went on a Saturday at lunch time. It was very busy and we had a short wait. We were able to walk around Old Town Spring, so it was no big deal. Once we did get in, the staff was friendly and happy to have kids in the restaurant. They brought over crayons and high chairs and helped to get us settled.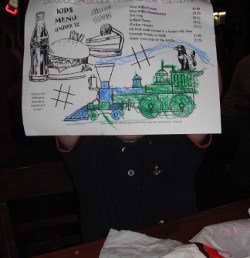 Wunsche is famous for their sausage sauerkraut balls and their beer bread. You can find the full menu HERE.  I'd love to order nothing but beer bread and ice tea, but am afraid people might start to comment about my beer bread hips. As it was, I just ate my slice and the left overs from my kids and…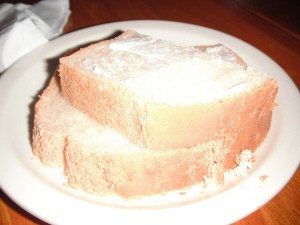 To go with my beer bread, I got the side Vegetable Plate ($7.99) with the choice of three side dishes. I got the green beans, garden salad and onion rings. The green beans have bacon in them… so vegetarians (like my mom who ordered the same thing) should beware. For me, it was all very good.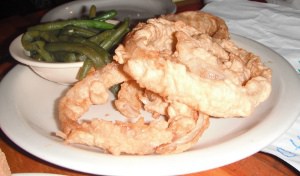 My kids got the chicken tenders ($4.75) and cheeseburger ($4.25).  Both baskets were big enough to feed and adult.  Service was fast and our drinks were kept full.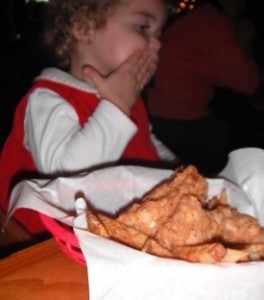 The food and service was all great, but it wasn't the best part about the restaurant. Wunsche Bros. is right next to the railroad tracks. Several times during lunch, a freight train would rumble by outside and the floors would shake and my kids would have a front seat view of the diesel engines. The only thing better than this would be a train and a firetruck… and maybe a little construction.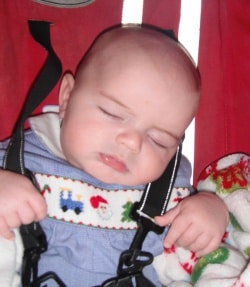 For those keeping track, James was along for the trip, but even the saloon ruckus and trains couldn't wake him up.