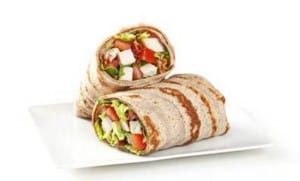 Want to win $100?  Check out this contest from our local Tossed restaurant at 13410 Briar Forest Drive, Suite 200, Houston, TX 77077

From Tossed®:
Who isn't wishing for a fresh start in 2013? The "Wrap Up Your Resolution" contest at local Houston's Tossed®, home of the freshest garden salads, assorted wraps, grilled Panini, gourmet sandwiches and hot soups, and your fresh idea can start off your New Year right—as a winner!
During the month of January, Houston local are encouraged to create a wrap based on their New Year's resolution. For example, if your resolution is to eat more protein, perhaps your wrap features turkey, bacon and cheese. Or if your desire is to visit Greece, discover a new variation using feta cheese and Kalamata olives.
Once you've created your original wrap recipe, give it a name and enter it along with your New Year's resolution at www.tossed.com. The deadline is 11:59 pm PST on January 31st, 2013. All entries will be judged for originality and flavor by the local Tossed franchisee, in cooperation with a team of judges from Tossed headquarters.
Local winners receive $100 and their wrap creation will be featured on the menu the next month.  Our location is at:
13410 Briar Forest Drive
Suite 200
Houston, TX 77077
BigKidSmallCity entered the contest and it was super easy.  Just a few check marks and we were done.  Go enter your own wrap today… just but sure your entry doesn't beat out my "Eat healthy with one hand and feed/grab/hold/dress/clean your kids with the other hand Wrap" contest entry!