Address:
4319 Montrose Blvd, Houston, TX 77006
Cost: Not cheap. Not wash-the-dishes expensive. Check the dinner MENU.  Also check the lunch MENU for some better deals.
Appropriate Age:   Probably for adults only… but you decide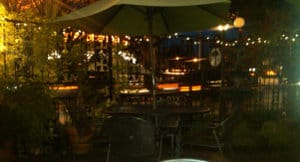 Our Review: Thai Sticks is located in Montrose in a very nice row of brick store fronts, each with patio seating. My husband and I went on a Wednesday night around 6:00. We sat outside on the patio which had a cool big city feel. We did not take our kids, and it was probably best. Inside the tables have white table clothes and is pretty classy. Outside was cool and could have handled the mess my kids make… but it was  easier on our own.
That said, I'm of the mindset that if your kids are well behaved and you want to try somewhere new, you should do it.  I mean, being a mom without a babysitter doesn't mean your outings should be all Chuck E. Cheese and McDonalds.  I could have definitely taken my newborn or even my 4 year old on a little date. Maybe even all 3 kids, if I was feeling ambitious.
We walked from next door but parking looked a little challenging. Not impossible, but challenging. There is valet at the bank next door, a small lot in the back or street parking on Montrose… but I'd be a little concerned about the street parking at rush hour since it is very busy.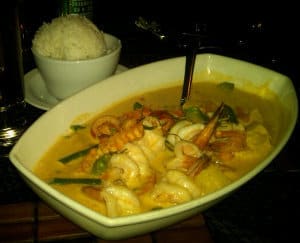 We ordered the Steamed Thai Dumplings ($7.95), the Choo Chee Curry($18.95), an extra rice ($1) and 2 imported beers ($5 each).  We were not super hungry and the waiter was happy to let us share the curry.  The restaurant was not very busy and the service was very quick and the food was excellent.  That plus the urban vibe made us fans of Thai Sticks.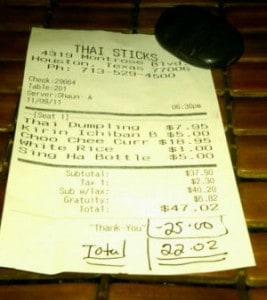 The best part about the dinner was the Restaurant.com gift card I had. Very frequently you can get $25 Restaurant.com gift certificates to select restaurants in your area for $2. I wasn't sure that it would work as advertised, but I thought I'd try it for $2.
I purchased the $25 voucher, for $2, a couple of months ago.  The voucher states that you must spend $35 and tip is added in automatically.   When I arrived at Thai Sticks, the waiter took it with no questions asked.  At the end of the meal, our check had $25 subtracted.  With tip included, we paid $22.02 (plus the $2 I already paid for the voucher).  Not bad for dinner for two with drinks!  Next time there are discounted Restaurant.com vouchers, I'll be sure to post the deal.