Address:
Multiple. Check
WEBSITE
.
Cost: Not McDonald's cheap. But you can get some good yogurt.
Appropriate Age:  All ages.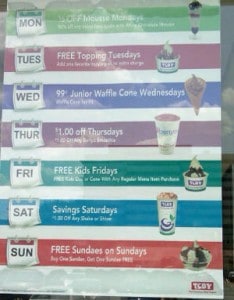 Our Review: 
After dragging the kids through a day of shopping, I treated them to some frozen yogurt at
TCBY
.  The sign in the window won me over.  Each day, at least at this location, there was a new deal.  For us, we received a free topping on Tuesday.  Check out your location for details.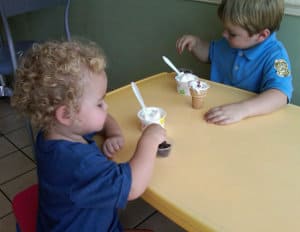 Our location had a little kid's picnic table that was a big hit.
The kid's cone was $2.59 for any flavor of soft serve. We also got the free topping.   The cones were substantial and the server was happy to turn them over into a cup for me.   I ordered white chocolate mouse so I could enjoy the leftovers.   My kids were busy eating the toppings and didn't know the difference.