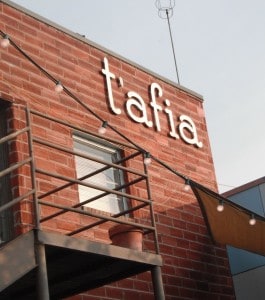 Address:  3701 Travis St., Houston, TX 77002
Cost:  Expensive
Appropriate Age:  Any Age, but Best for Adults
Our Review:  I've been hearing about T'Afia for years.  I've toured the restaurant during the weekend farmer's market, but had never eaten there.  When I saw the Voice Daily Deal for the restaurant, I grabbed it.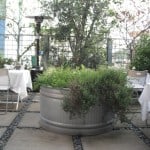 My friend raves about T'Afia and told me that I could easily spend $200 there and that I should let her watch my kids so I could better enjoy the restaurant.  I told her she was crazy on both items and went on my way.
The restaurant has limited hours and we decided to go on Friday evening, just as the dining room opened at 5:30.   Located in midtown, the small parking lot has free valet parking.  The restaurant is also right in front of the HCC/Ensemble METRORail station.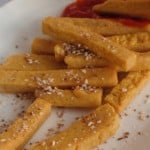 My husband, 3 kids and I dropped in without a reservation and were able to find a seat on the patio.  (If you would like a reservation, go HERE.)  At 5:30, the tables were half full.  At 6:30, they were all full.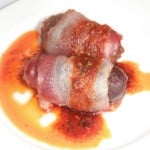 T'Afia uses fresh, organic, local ingredients, so the menu changes frequently.  On the night we were there, we ordered chickpea "fries" ($10), date with a pig ($3.50), flat chicken ($19), chicken noodle soup ($7), venison slider ($9).  Unlimited filter water is $1 for still and $2 for sparkling.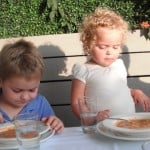 The drinks are even more expensive than the food.  One whiskey cocktail was $10 and one mimosa was $8.  And they were not very big.
I was wondering if my friend was crazy to love T'Afia, but then the food arrived.  My kids could not get enough of the chickpea "fries" and the chicken noodle soup.  The soup had a red tomato base rather than traditional chicken broth.  (I scraped the bottom of the bowl after my kids were done, and I can tell you that it was great.)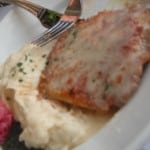 The flat chicken was mine, and was one of the best things I've ever had.  The chicken was thin with a crispy outside and was full of flavor.  My husband ate the slider and said it was the best hamburger he could remember eating.  And finally, let me tell you about the date with a pig.  These are dates, wrapped in bacon, stuffed with chorizo and covered in chermoula.  Each little date is $3.50, but is definitely worth trying.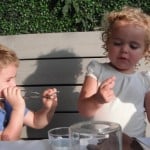 Throughout dinner, my kids were good, but I was a little on edge making sure they didn't knock the other off the chair as they fought over the soup.  No one gave me trouble for having them there, but I do think they would have enjoyed Natachee's (right next door) more.  Next time we go, I think I will let me friend watch my kids.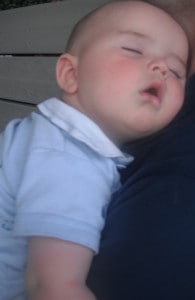 As for the money, I was happy to have had the Voice Daily Deal voucher.  Our total came to $75.37, minus the $50.00 voucher.  Before tip, I paid $25.37 plus the $25 for the voucher.  In the end, the night cost $65.00.  Expensive.  But very good food.