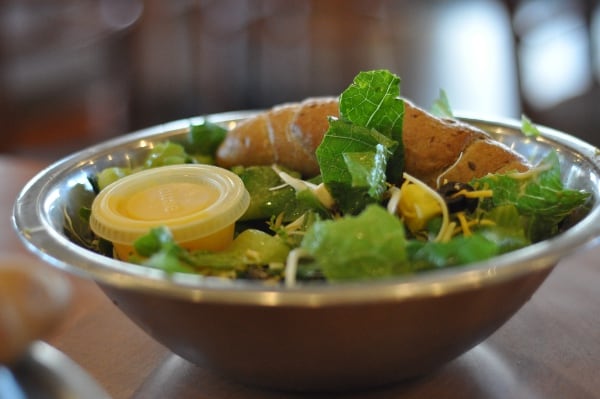 Address:
1440 West Gray Street, Houston, TX 77019 (and several other locations)
Okay, okay, okay… I know I usually review local restaurants and Salata is not a local spot.  But with the number of cookies I've eaten over the last few weeks, and the amount of money spent on gifts and fun, Salata is currently my very favorite spot.
At this fast food restaurant, you pick a salad or wrap, a size and then select what you want.  You get to pick as many toppings as you want and only pay extra for falafel or meat.  Then you pay, fill your drink, and lunch is ready.
My mom and I have unintentionally started a new routine of meeting for lunch each week.  She drives to the city for an appointment, and then we meet for a quick and reasonably priced lunch.  At Salata, we can each get a loaded salad and iced tea, for $9 each.
We like that we can load up our salads with whatever we want, and not pay by the pound or by the topping. We get a very quick and healthy lunch… but do not spend a lot of money.
My older kids order salads and my 5 year old gets his favorite veggies, piled in corners of the bowl… with no dressing and certainly no mixing.
If you've had too many cookies in December… check out Salata in January.
Find more Houston restaurants: