Address: 1318 Westheimer Rd, Houston, TX 77006
Cost: Reasonable
Appropriate Age: Adults
Our Review: I've been wanting to go to Royal Oak Bar & Grill for a while and when I saw the Voice Daily Deal, I snatched it up. It is located on Westheimer in a neat old building and the pictures  make it look very classy. My husband and I went on a Wednesday night at 6:00 for dinner and it was not exactly what I expected.
Royal Oak is located on Westheimer and has a $5 Valet lot. You can also park for free on the side streets of Graustark or Yupon (but might have to cross a busy Westheimer). We parked on the side streets and walked over.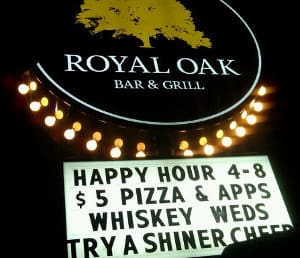 When we arrived, we were surprised that there was no greeter or anyone to welcome us in. It was very much a bar when you sat where ever you wanted and hoped for service. When I asked the bartender where we should sit for dinner, she was irritated and told us to go anywhere. We walked around on our own and saw a dark backyard patio, the dark bar area and seating outside in front of the restaurant. The upstairs was closed off. I was surprised because in the pictures the place looks very classy. We did see the wood floors, antler chandlers and the fancy leather booths, but the place was just too dark and the patrons were not treated especially well.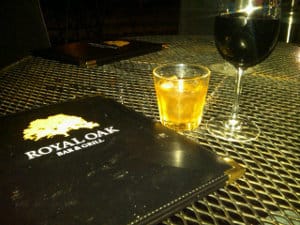 We decided to sit on the front patio and a waitress did find her way to us pretty quickly. There are some great happy hour specials on week nights so we ordered a couple drinks. Our Voice Daily Deal was only valid for $24 worth of regularly priced food (and not alcohol), so we looked at the regular menu.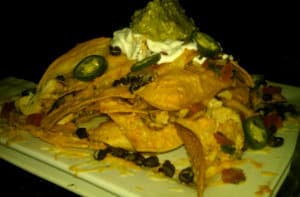 We shared the Nachos ($9.95) that had corn tortilla chips topped with pico de gallo, scallions, cilantro, cheddar cheese sour cream, guacamole and chicken. They were huge and really good.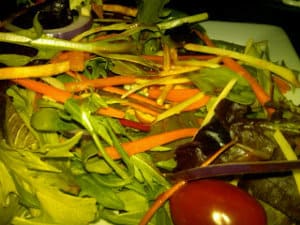 We then shared the Asian Salad ($7.95) with green leaf lettuce, roasted peanuts, cucumbers, carrots, red onions, fresh ginger, and ginger soy vinaigrette. The waitress had it split into two plates without us even asking. It was a little spicy but was good.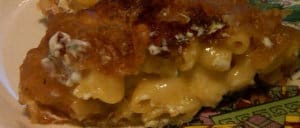 We still had some money left on our voucher, so we ordered the Fried Macaroni and Cheese ($5.95)to go. It was a very unusual Guinness battered green chile mac & cheese, with roasted peppers and cilantro cream cheese and came out in three fried balls of mac and cheese. It did not look at all healthy, but tasted delicious.
In the end we got 1 Makers Mark Whiskey ($5 on Whiskey Wednesday), 2 House Wines ($6 total at happy hour), 1 Nacho ($9.95), 1 Asian Salad ($7.95) and 1 Fried Mac and Cheese ($5.95). The total was $36.35, minus the $24 Voice Daily Deal, making it $13.37. I had paid $12 for the voucher, so we had a night out for $25.37 plus tip. Not too bad for a birthday dinner with drinks, food and take home for the kids.
Royal Oak was not what I was expecting, but I was glad we stayed there for dinner. The portions were very generous and the food was good. If they could just add a little more lighting and some more formal staff, I think it would be fantastic.