Address: 3903 Fulton, Houston, Texs 77009
Cost:  Reasonable
Appropriate age:  Any age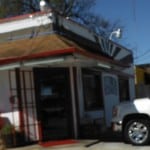 Radical Eats is a Vegetarian and Vegan Mexican restaurant near downtown Houston.  It is located right off of 45, between 10 and 610 with brand new METRORail tracks under construction right out front.  This little restaurant has a parking lot and plenty of free street parking.
It took us a while to try it because it was sooooo far away.  As it turns out, it only seems far away when you are sitting around thinking about the long drive.  When we finally got brave enough to make the trek from Downtown Houston, it took under 10 minutes and  I felt a little silly.  The drive was easy and when the new METRORail line opens, getting there will be even easier.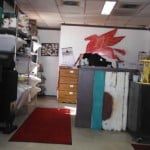 We knew that Radical Eats was a little hole in the wall restaurant that was not at all fancy.  What we know now is that it has lots of character, the staff treats you like family and the food is great.
The restaurant has about 10 tables, a cashier counter and a kitchen.  There are tables wrapped in burlap, pilars pasted with bumper stickers and pantry staples lining the walls.  As soon as we entered the restaurant, we were greeted by the owner, who was waiting tables, and asked to find a table.  In fact, the greeting was something like, "Hi Sweetie, grab a seat anywhere.".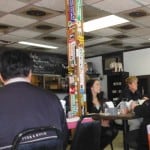 I've been married for 11 years and a mom for 5.5 years, so I was pleased that someone still thought I was sweet and happily took my seat.  The waiter took my drink order immediately and handed me the paper menu.  Soon after this he brought me a complementary bucket of chips and salsa.
I ordered 3 Fried Avocado Tacos ( Baja Style Fried Avocado, Purple Haze (Asian Slaw), Creamy Rooster Sauce) for  $4.25, 1 Raw Taco (Mushrooms, Pecans, Avocado and Purple Haze, in a Local Green Leaf )for $3.25 and the Grilled Avocado Texas Citrus Ginger Dressing and Hardcore Salad for $8.00 and got it "to go".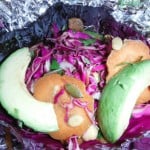 At lunch on a weekday, the restaurant was full by 12:00.  I spotted a couple high chairs for the kids, but my own baby told me he was too tired to do anything but be held.
The owner came over to smile at James and talk with me.  And no one at the restaurant flinched when James started to loudly jibber jabber and put every single straw in my glass.
I enjoyed my tea (with 4 straws) and in less than 10 minutes my order was ready.
I headed out the door, and since I had seen the food coming out of the kitchen, I knew I would be the hero of lunch.  And I was.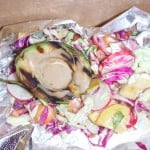 The food from Radical Eats is fantastic.  The Fried Avocado Taco was big, filling, tasty and is now one of my favorite meals ever.  I was surprised that the Raw Taco came in a lettuce "shell" but that is because I did not read the menu closely  and didn't pick up that "raw" means "raw".  The surprise was short lived because I was too busy enjoying the taco.  This raw taco did not taste anything like rabbit food.
The Avocado Salad had half of a grilled avocado on top of a load of veggies.  I order a lot of salads and am always annoyed when they come with a bunch of worthless iceberg and a few toppings.  This salad from Radical Eats had local greens, sprouts, radishes, tomatoes, avocado and citrus dressing.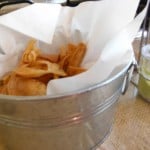 In case you are worried, I did share all the food.  It seems that 2 tacos is a meal for an adult, but I took bites of everything and let my kids and husband eat as well.
From what I hear, the food is vegetarian and vegan, but there is nothing missing and nothing was "substituted" for the missing meat.  It was just healthy food prepared very well.
This was the best meal I've had in a long time.  And the restaurant is easy to get to, so I might be there when you go to visit.