Address: Multiple. We visited 3899 Southwest Freeway @ Weslayan, Houston, Texas 77027
Cost: Reasonable
Appropriate Age: Any age
Our Review:  Mr. Prince visited the Texas State Fair in the 1920's, discovered the hamburger and decided to start his own restaurant.  Prince's Hamburgers started as a stand in Dallas but quickly moved to Houston.  Since 1934, Prince's has been in our city.  It now has 4 Houston locations.  We visited the one at 59 and Weslayan.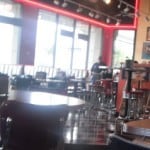 Prince's is at the corner of a strip mall, right next to Fudruckers.  I was wondering how both could survive in that location, but then we went inside.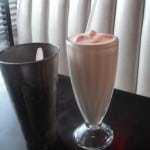 Somehow I had missed that Prince's Hamburgers is set up as an old time diner.  There are checkerboard floors, 1950's tables and chairs and a jukebox, , This might be gimmicky to some, but I personally like gimmicks.  Anything that entertains my kids makes me happy.  (For example: Jerry Built Burgers Hand Washing station.  Best thing ever.)  Already pleased with our lunch stop, we went to the counter to order.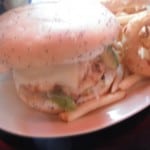 Prince's has a lot of options for kids. The Prince's  Lil' Boppers menu includes burgers, cheesburgers, grilled cheese, chicken tenders, hot dog, corn dog, drinks and shakes.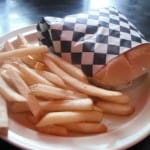 They also have several vegetarian and lite options on the menu.
We ordered the Lil' Bopper Cheeseburger and Fries ($4.49), an Original Cheeseburger ($4.79), California Chicken Sandwich ($6.89) and Vanilla Shake ($3.59).   I had purchased the Voice Daily Deal, so I only paid a couple dollars at the counter.  (The voucher had cost me $10.)  The cashier had no issues taking the voucher.
We settled into our booth, and James in the high chair, and our food was soon ready. And all of it was good.  Brooke ate her sandwich and guarded her fries.  I ate a little of everything and was pleased with our lunch.  I could even see why people come here rather than Fudruckers.  The food is good, the people are nice, and the old time diner is just fun.
We'll be headed back soon.  But this time I'm signing up for the E-Club so I can save $5!