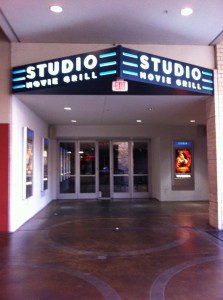 Address:  822 Town and Country Blvd, Houston TX 77024
Age Appropriate:  As soon as your child can go to the movie!
Price: $-$$
Hi, I'm Juliette! My husband, my 6-year-old son and I love going out to eat and we are sharing our restaurant finds with you.
I hope you all had a wonderful Thanksgiving last week! This week, we went to Movie Studio Grill at City Center. I know that it has been around for a while but we still had never gone!
I am glad we did!
We met some friends for an early showing/dinner of Frozen, the new Disney movie. (As a side note, the movie is nice and good for the boys too.)
[Read more…] about Studio Movie Grill at City Centre – BigKidSmallCity's Search for Houston's Best Kid Friendly Restaurants!