UPDATE: Now Closed.
Address:  1601 Richmond Avenue, Houston, TX, 77006
Cost: Reasonable
Appropriate Age:  Any Age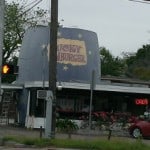 Lucky Burger is a Greasy Spoon.  And, I have a special place in my heart for dives and greasy spoons.  Something about them is more intriguing than a fancy restaurant.  Probably because more adventure is involved in the dining experience.
Lucky Burger is in a funny little building located on the corner of Mandell and Richmond in Montrose.  It has been family run since 1975 and you'll meet them when you walk in the door.
The place is old and beat up but looked clean.  You order at the counter and either sit at the window or in the small dining area.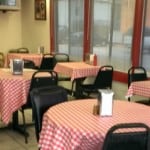 I had been here years ago and had a burger.  It was good enough but did not make me a regular.  Then I got a tip that Lucky Burger was actually a burger AND fried rice joint.  This got my attention and sent me back with my kids.
To make this a real adventure, the kids and I parked near Mandell Park.  I told them to find a building with a big blue "hat".  We tip-toed through the park, down the sidewalk and found it.  Next I told the kids to find a way to get our stroller up the front step.  Joe held the door while I maneuvered over the one step.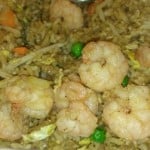 Next I told them to find rice on the menu behind the counter.  We searched through shrimp, fish, nuggets, burgers, grilled cheese and found the Shrimp Fried Rice (Large is $8.99).  Our next objective was to sit on the tall stools and play I-spy out the window.  We did this as our food was made and the staff made a big deal over the kids.
In about 5 minutes the food was done and we declared our mission a success.
Lucky Burger does have some high chairs and invited us to stay and eat.  I was afraid of the damage we would do with 3 kids and a box of rice, so we took our order to go.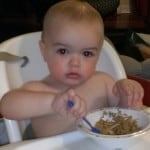 At home we opened the huge box of rice and ate.  And ate.  And ate.  This box fed me and my 3 minis.
We liked the rice and the price.  My kids didn't know Lucky Burger was a greasy spoon, but they did know that their mom's stove doesn't cook much (or well).  They certainly appreciated the adventure and ate their body weights in fried rice.  And so did I.