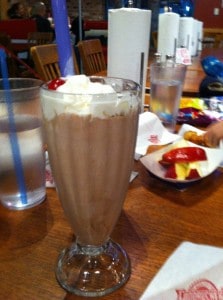 Location: 3929 Southwest freeway Houston Tx 77027
Age Appropriate: All ages!
Price: $
Hi, I'm Juliette! My husband, my 6-year-old and I love going out to eat and we are sharing our restaurant finds with you.
This week, we played it safe and went to an old faithful place: Fuddruckers (by 59 and Buffalo Speedway). When we started going there, the decor was really fun: a return to the 50's. It has since changed to a more subtle Americana look. It is more subdued for sure!
There is a big room with big Tvs and a smaller room with video games and other games. It is casual and clean and the bathrooms are well equipped for children.  They have some round tables that are a little sheltered and with banquettes, always a favorite with my son.
[Read more…] about Fuddruckers – BigKidSmallCity's Search for Houston's Best Kid Friendly Restaurants!