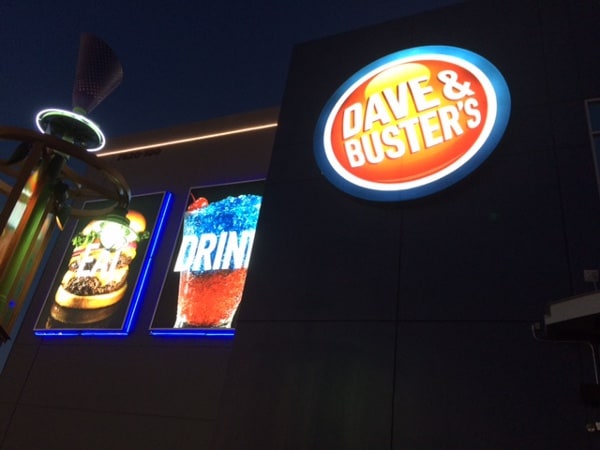 Address:
7620 Katy Freeway #100 Houston TX 77024
Age Appropriate:
5 and up
Price:
 $-$$
Hi, I'm Juliette! My husband, my 8-year-old and I love going out to eat and we are sharing our restaurant finds with you.
I hope you all had a wonderful Spring Break! We are on our final stretch before the end of the school year and I am really excited to think of the summer!
I have a review for your older kids today. My son is growing up! I realized it a couple of weeks ago when I dropped him off for a birthday party at Dave And Busters at the Marquee on I10. Forget Chuck and Cheese, this is a whole other world of entertainment! He went upstairs and he played bowling with his friends but as I looked around I could see how much he liked the place.The goodie bag was a D&B card to play the games downstairs.
So, we took him there last week and he had a blast playing the games, winning tickets and buying gifts with them. I liked how the adult video games are on one side and most of the other games are really family friendly.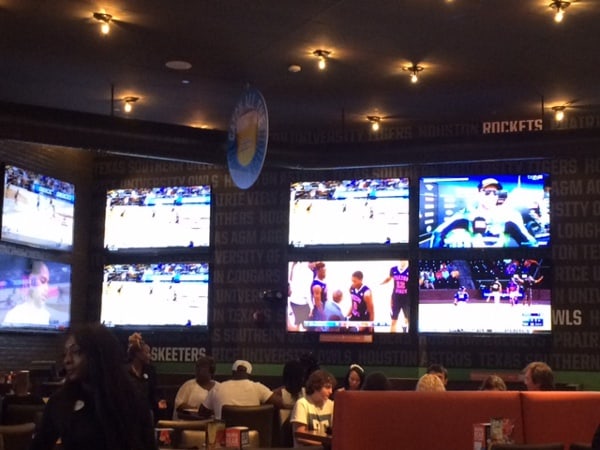 We then headed to the restaurant where the waiting time was about 20 minutes. For the 1st time, my son didn't mind waiting since it meant he could play until the buzzer rang! The restaurant is family friendly and my son absolutely loved the huge TVs everywhere showing all kind of sports. We actually enjoyed a diving competition while we ordered.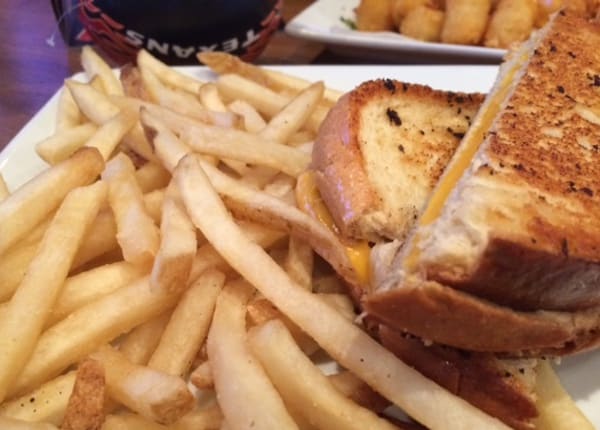 The children menu was a pleasant surprise for me. I was really happy to see that salad was an option, it has 3 different kinds of salads as well as the classics burgers, hot dogs, mac and cheese…It is sure to please even your younger ones.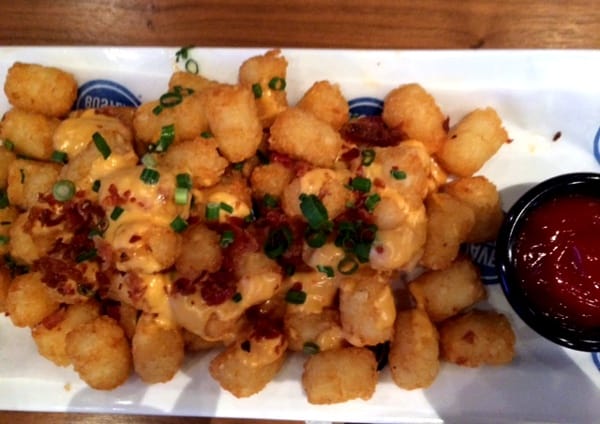 We ordered an appetizer of "Lotsa loaded Tots" because they give 1$ back to the Make a Wish foundation. It was a fun way to start the meal, especially for my husband who loved them! He also ordered a Buffalo Bar Chicks with fries. Nice chicken dipped in buffalo sauce with lettuce and tomatoes served on cute (and delicious!) brioche buns.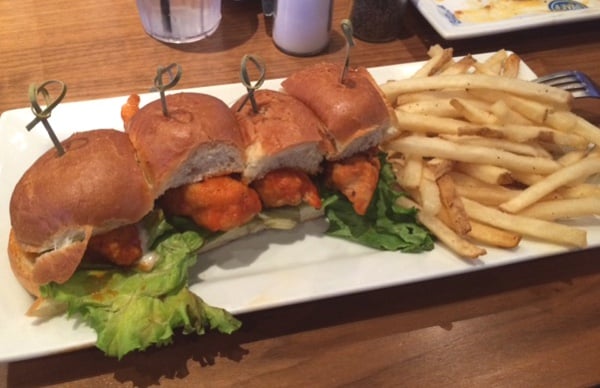 My son picked the grilled cheese with fries option and enjoyed both! He liked the sandwich because it had a perfect amount of cheese and it was not greasy. I have to say that it was a perfect time for him, playing, watching sports and eating. He was really, really happy!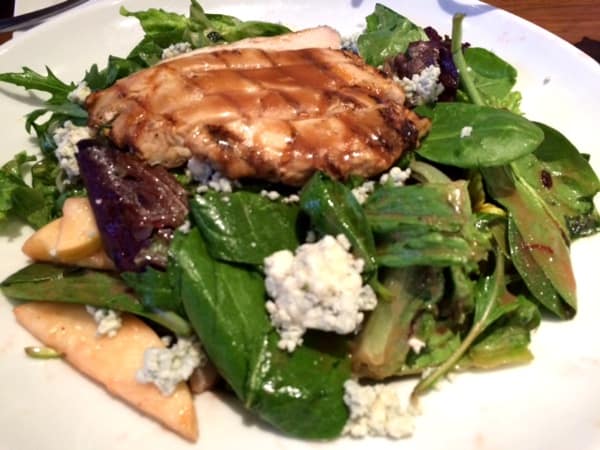 I chose the Sweet Apple Pecan Salad with Grilled Chicken. I was really pleasantly surprised by my salad. I thought it was really good, with the candied pecans, apple slices, delicious chicken, fresh greens and a really good vinaigrette. The price was really good also for the quality of this salad (less than $10) and I would have it again anytime.
All in all, Dave and Busters was a good surprise for me. We all had a great time playing and then eating a good dinner in a family friendly environment. (I have to add that we went early evening on a Saturday night but would probably not go too late as it might get a bit more adult oriented.)
See you next week for another culinary adventure!