Address:  Multiple.  We visited the one at 3651 Weslayan @ Richmond Avenue, Houston, Texas 77027

Cost:  Reasonable
Appropriate Age:  Any age.
Our Review: Bullritos has several Houston locations.  We visited the one next to Costco at Weslayan and Richmond.  It was a tough sell because my kids wanted to go to Firehouse Subs next door.  We love Firehouse Subs but have been there a hundred times.  I told my kids we needed to be wild and crazy and try something new.  Oh, and Bullritos has free ice cream.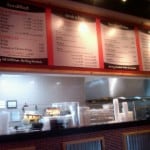 We went on Sunday, at lunch time, in the pouring rain.  When we arrived, the place was empty.  As the rain stopped, the more sane people started arriving and filled up the restaurant.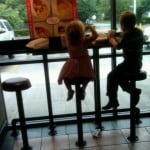 Bullritos is set up like Which Wich.  You come in, grab a bag, check off what you want and pay at the counter.  Kids can pick between a burrito, bowl or 1 taco, plus a drink, for $3.99 each.  Adults can pick between a burrito, bowl or 3 tacos for varying prices.  For $6.29, you can get a veggie with guacamole.
My self-declared Vegetarian kids ordered a veggie bowl and I ordered the salad style veggie bowl, with guacamole.  By the time we payed and filled our drinks, the food was ready.
Half of the restaurant is filled with tall tables with bar stools making it pretty awesome according to my big kids.  James and I sat at a low table, with a high chair, while Joe and Brooke pretended not to know me at a nearby tall table.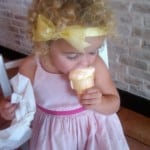 Now, as for the food…  Let me say that it was fast and it was good.  Also, it was better than making it myself.  And I did not have to do any dishes.  Still some things could have been a little better.  First, Joe had tomatoes in his bowl and we had not checked these on the bag.  Not a huge deal, but I had to listen to him say, "Nooooooooooo, Mommmmmmm.  Why did you get me tomaaaaatoes?".  Also, I had ordered the salad style bowl.  I'm not really sure what a salad bowl is, but I did not see that I had any more lettuce than my kids.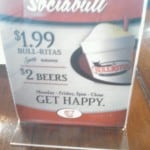 But still, the food was good.  And, after we finished our meals, the kids were able to fill up their own ice cream cones.
Another treat, for adults, looks to be the weekday happy hour.  From 2:00 to close, you can get $2 Bull-Ritas or beers.  Also, if you join The Herd, you will get emails with the latest deals.
All in all, lunch was good.  Next time I'll go during happy hour.  I think the $2 margarita will help me deal with any order mishaps.  I won't even care if someone says, "Nooooooooooo, Mommmmmmm.  Why did you get me tomaaaaatoes?".