Address: 2310 Decatur Street, Houston, TX 77007
Cost: Reasonable (But Not Cheap)
Appropriate Age: Any age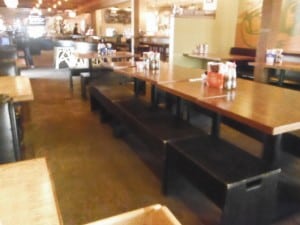 Have you heard about Beaver's but never tried it? Ever wonder why there is a restaurant named Beaver's? Ever driven there on a Monday to find it closed? Please say yes to one of these questions, so we don't feel bad admitting to all of them.
Beaver's is located just off of Washington Avenue in the Heights and is half pub and half ice house.  I'm not sure if it's a sophisticated cabin or a casual pub, but the mix makes it funky and fun.  The name Beaver's comes from the building's past life as a Texas Ice House.  The owners changed but the name remained.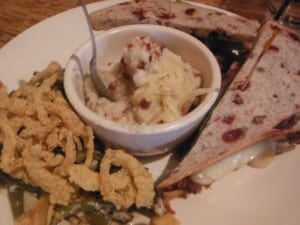 I had heard my cool friends talk about Beaver's (you know – the ones that have tried every restaurant in urban Houston and have actually been to a bar, without kids, after 7:00pm) and I had read rave reviews of the veggie burger.  Not wanting to be left out any longer, I packed up my kids and my cool friend and headed to Beaver's.  (We were in a minivan, but a very cool minivan.)
The 1st time we went, it was a Monday and I should have known better.  Beaver's were closed.  The 2nd time we went on Friday at 10:59am and there was a line of people waiting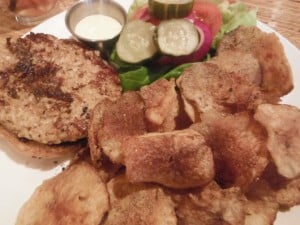 to get in for 11:00am.  We did get let in right on time and got a table immediately.  By the time we left at 12:00pm, many of the tables were taken.
When we walked in, no one blinked because the mom with a minivan had just arrived with a bunch of kids.  They just got me a high chair, kid's menu and took the kid's order right away.  I got them a chicken tender meal ($4)and french fries ($2).
The menu had a lot of options, but I did not really look at it.  I knew I was going to try the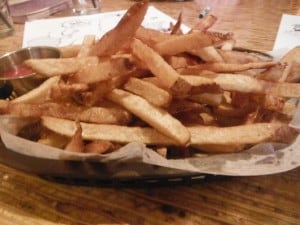 Beaver Nut Burger (Brown rice, cashews, walnuts, and cheddar, with bibb lettuce, tomato, onion, house pickles and a side of miso-mustard sauce, spicy fried potato chips) for $12.  My friend ordered the TBLT (smoked turkey, thick cut bacon, swiss, bibb lettuce, onion and chipotle mayo on a pecan cranberry bread, bacon cheddar mashed potatoes and green bean casserole) for $13.
The food came quickly and everyone said the food was good.  But let me tell you about the world's best veggie burger.  Most veggie burgers are mushy in texture and taste and are just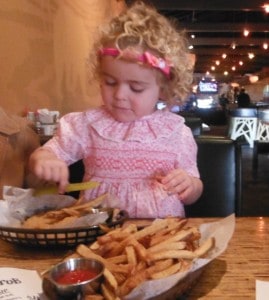 the default option for vegetarians.  Not this one.  The nut burger was substantial and very tasty.  And the chips that it came with were the best chips I've ever had.  Really really good.
I inhaled my food, got a to-go box for my friend and daughter (who are apparently much more dainty eaters than me) and was on my way.
I managed to back out of the tiny parking lot without hitting another car and declared Beaver's one of the best lunch spots in Houston.