Location:
2040 West Gray Houston TX 77019
Age Appropriate:
5 and up
Price:
$$-$$$
Hi, I'm Juliette! My husband, my 7-year-old and I love going out to eat and we are sharing our restaurant finds with you.
This is not our usual review this week. We have been working on good table manners with our son for a couple of weeks in order to go to Américas on West Gray. It is owned by the Cordua family who also owns Amazon Grill on Kirby. Amazon is one of our favorite restaurant (check out our review!) and is really good fpr young kids. But let's go back to Américas!
We have been struggling with good manners and now that our son is 7, it is becoming increasingly frustrating to see him hunched over his plate, using his fingers to push his food on his spoon! Anyway, we have really tried to remind him that he needed to eat properly to go to Americas. He LOVES the tres leches cake there and that was a good motivator!
Americas is definitively more formal and the kids there were all over 5 (lunch is definitively more easygoing as an option). They do have a children menu with great options even though they did not offer it to us that night.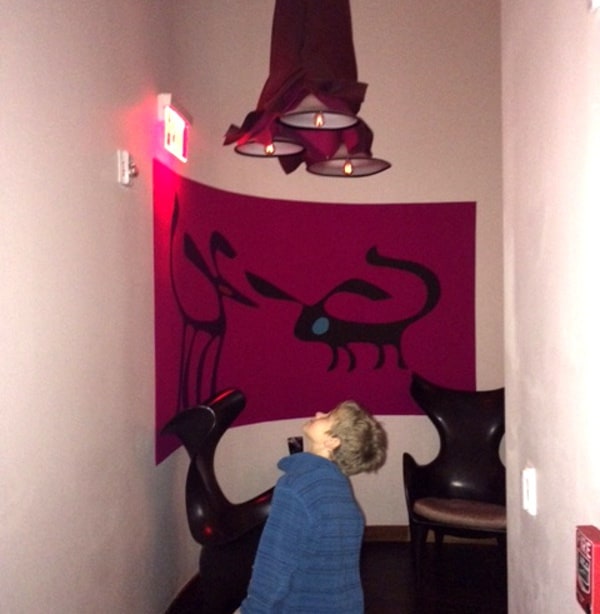 The thing I love about Americas is the décor, it is unique and there is plenty to look at. It is so whimsical that it almost brings a childish touch to the ambiance. You even get on an elevator to take you to the dining room and the booths are very comfortable and private. The women bathroom is worth a trip… a wall of mirror is sure to make your young one smile!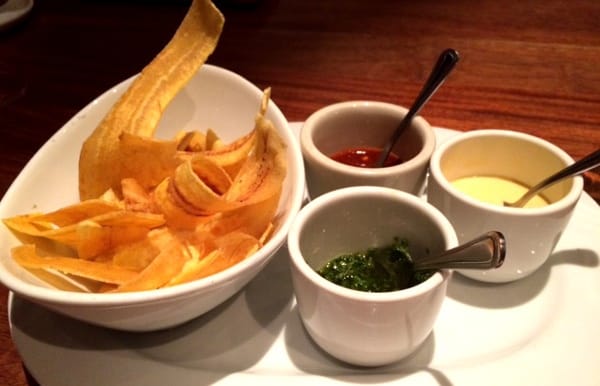 As we sat down, they brought my son's favorite snack: banana chips with dipping sauces. He loves the herbs and olive oil one but the 2 other ones are also delicious. We enjoyed the dim and quiet atmosphere and we realized it helped our son behave better!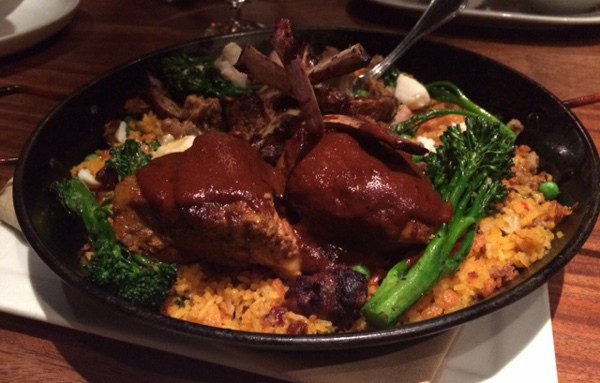 We ordered the Paella Arroz Cazador ($39.95) that serves 2 or 3. It had smoked lamb, bacon wrapped quail, pork carnitas & smoked crab over saffron chorizo rice. It looked beautiful and the aroma was wonderful. I was a bit worried that it might be too spicy for our son but he loved it. He loved the chorizo and the meat and finished his plate in no time ( using his fork and knife!!)
I have to say that it was the best paella I ever had. The rice was so good and all the ingredients melted in our mouth in perfect harmony. It was enough for all 3 of us and we had some leftover for a lunch.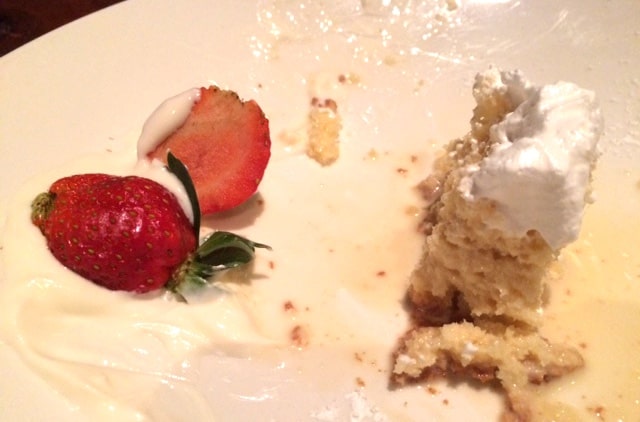 And finally, the Tres Leches cake was served and half-eaten before the picture! The Cordua family has the best cake in town! This is our family's favorite cake and we enjoyed every bite!
Americas is a wonderful restaurant that you will enjoy with your family. The décor, wonderful food and friendly staff will make you feel welcome!
See you next week for another culinary adventure!