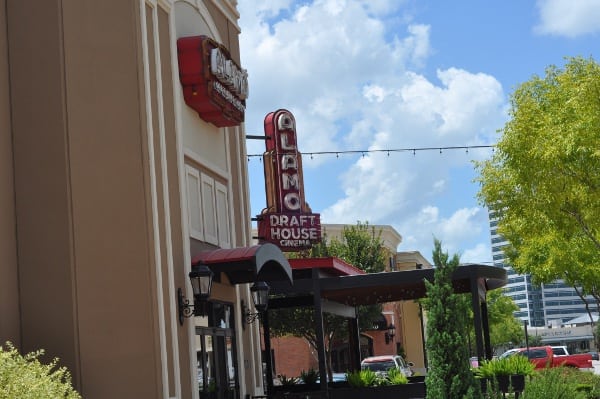 Through September 7, you can support the Houston Food Bank by eating out around town.  Some spots are family friendly, some are best for date night or girls night…  All are set menus and a chance to try things you may not have thought to order on your own.  Find the details
HERE
.
Alamo Drafthouse invited me out to try the menu. It was a pretty cool night out, because…
1. It was a date night. These are very rare in my house, so really, Alamo Drafthouse automatically won us over.
2. The set menu spoiled us with popcorn, chips and salsa, spaghetti squash, hamburger, apple pie and cookies. The warm chocolate chip cookies gave Alamo Drafthouse a million bonus points.
3. We ate during the movie, so we were able to get back home to our kids pretty quickly. (We like time off… but we also like our crazy kids.)
4. We were supporting the Houston Food Bank with our Night Out.
5. The set menu is $35 per person and it comes with the movie ticket, plus a second ticket for a future show. Tickets are worth about $10 each… so if you are sure to use your second ticket, dinner (including a donation to the food bank) is about $15.
Note that kids need to be 6 or older to go to Alamo Drafthouse, unless it's a special Kid's Club show.