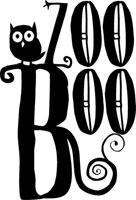 Address:  Houston Zoo, Hermann Park
Hours:
Saturdays and Sundays
October 15, 16, 22, 23, 29 and 30
9:00 a.m. – 4:00 p.m.
Friday mornings and Halloween Monday
Oct 14, 21, 28 and 31
9:00 a.m. – 1:00 p.m.
Cost:  Free with General Admission
Appropriate Age:  Any Age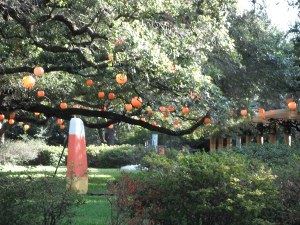 Our Review: Zoo Boo is a family friendly event at the Houston Zoo. Kids come dressed in costume and can parade around the park, stop at each designated station to collect candy, tattoos, play games and decorate mini-pumpkins.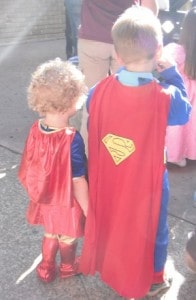 The kids have gone to Zoo Boo in the past and I was dreading it this year. It is usually fun, but parking is tight and the zoo is very crowded. This year, instead of going on a Saturday, we went went on Friday morning and I was pleasantly surprised.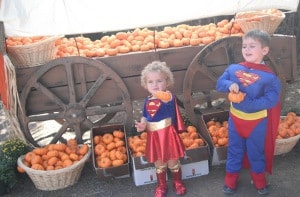 My super heros and I were able to find parking easily at 10:00 on Friday and walked right into the zoo with no hassle. We received the map at the door and quickly found the first candy station.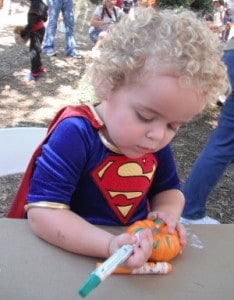 We then wondered around and found all the stations and never waited in a line longer than about 5 kids. At the end, we visited the pumpkin patch where each kid picked out a mini pumpkin (and all the moms were busy taking pictures). This was probably my favorite Zoo Boo stop.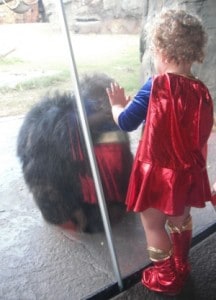 My big kids (superheros) said that their favorite part was flying through the zoo (with their capes). Baby James was also a superhero and flew through the zoo at nearly 5ft off the ground (securely, in his Baby Bjorn).
Overall, we say it's a good event if you can stand the crowds. If possible, try to go on a Friday. If you can't, try to arrive early and be flexible.