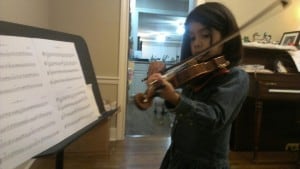 Are you looking for fun things to do in Houston this summer?  How about taking your young musician to the month long Texas Music Festival with nearly 30 performances?  This classical music festival is based at the University of Houston (UH) Moores School of Music and most of the performances are free or reasonably priced.
BigKidSmallCity's own Felicia has a young musician to take to the performances.  Aylen is a 7 year old violinist who loves to go to concerts.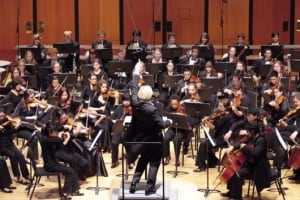 To make the outings even more fun, there will be pre-concert performances by Virtuosi of Houston, local food trucks to visit and a pre-concert lecture by a noted music expert.
The Texas Music Festival Orchestra Series, which kicks off Saturday, June 8, 6:30 p.m., with the Celebratory Opening and continues with Saturday evening concerts on June 15, 22 and 29.
The Final Round of the Cynthia Woods Mitchell Young Artist Competition (FREE!) will be Sunday, June 9, 2 p.m. at the Dudley Recital Hall at the University of Houston – Main Campus – Entrance #16 off Cullen Blvd.  The Cynthia Woods Mitchell Young Artist Competition is open to all Texas Music Festival Orchestra participants. All finalists will receive a cash prize. The winner will perform with the Festival Orchestra under the baton of Maestro Horst Förster during a performance at the Cynthia Woods Mitchell Pavilion on June 14, 2013 at 8 p.m., and also at the Moores Opera House on June 15, 2013 at 7:30 p.m. 
For more information, go HERE!