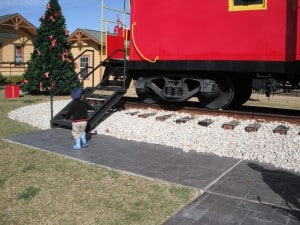 There is a lot going on in Tomball, Texas this weekend!  On Saturday, April 14, you can check out the farmers market, events at the train depot and annual plant sale.
Tomball is a bit of a drive from Downtown Houston, but it's worth the 30+ miles because you can spend the whole day having fun.
The farmers market is located at the corner of FM 2920 (aka Main Street) and Cherry Street in Historic Downtown Tomball. Stop by from 9:00 – 1:00.
While you are in town, stop by the historic train depot. My kids love to climb on the caboose and look at the model trains in the depot. Plus, on April 14, there are a bunch of events schedule at the depot. Go HERE for information.
If you are looking for plants, bulbs, hanging baskets, yard art and more, stop by the Tomball Garden Club Plant Sale this weekend at 201 Market Street, Tomball. Proceeds from this sale go to Tomball garden projects, including beautifying the train depot! There still time to get your garden looking good before the hot weather starts! Go HERE for tips on what you should be doing in the garden right now.