Address: Discovery Green
Hours: Through January 22, 2012
Monday thru Thursday School Days 4:00-10:00pm
Fridays & Saturdays 11:00am-11:00pm
Sundays 11:00am-8:00pm
All School Holidays 11:00am-11:00pm
Christmas Eve 11:00am-8:00pm
Christmas Day 2:00pm-11:00pm
New Years Eve 11:00am-Midnight
New Years Day 11:00am-11:00pm
MLK Day 11:00am-9:00pm.
Cost: $10/skater. Includes skate rental.
Appropriate Age: No restrictions. Probably 2 years old and up is best.
Our Review: The St. Joseph Medical Center's Ice Rink is back at Discovery Green. Each winter, from November until January, the open-air rink is open to the public. The ice rink uses water from Discovery Green's Kinder Lake and is chilled with cooling pipe (located under the ice).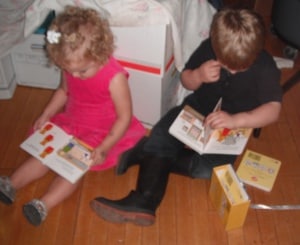 My kids had never been ice skating, but we went twice last weekend. On Friday, we stumbled into the park and saw the rink was open. It was about 3:00 and it was almost empty. Since none of us knew how to skate, we decided this would be a good time to try.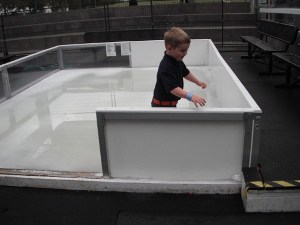 Each skater is charged $10 and gets a wrist band and skates. Since I had the Voice Daily Deal, I just handed over my coupon ($10 for 2 skaters). The rink has double bladed kid skates, which I highly recommend.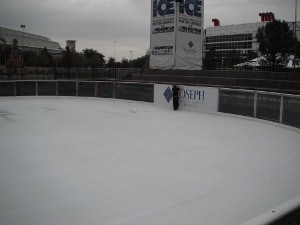 I had James strapped to my chest, so I put the skates on Joe and Brooke and sent them to the toddler rink. It is a small area next to the big rink, reserved for kids 4 and under. I was able to hold their hands from the outside and walk them around the ice. The double bladed skates really helped them balance.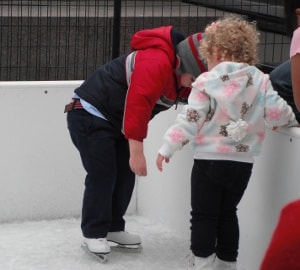 Still, both kids took some tumbles on the wet ice. Brooke quickly decided she had had enough, but Joe was determined to go to the big rink. He started by holding the side, but then ventured through the middle of the ice. I can assure you it is much better than I could have done (even with double blade skates)!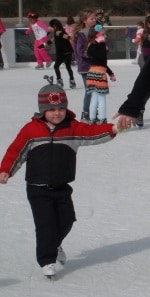 Joe had so much fun, he really wanted to go back on Saturday. I still had the Groupon Daily Deal ($10 for 2 skaters), so we headed back. Saturday at 12:00 was very very crowded. It was nice that we had the practice day the day before because Joe was not intimidated by the crowd. He went onto the big ice all by himself.
Brooke insisted that she did not want to skate, until she saw Joe skating. She got on her skates and had fun on the toddler ice. The ice was much dryer on Saturday, so the falls were not nearly as cold.
Go check out the rink. With the Downtown Trolley Passport, you save $1 per person.