Friday and Saturday is the Museum of Fine Art's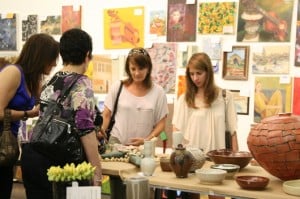 Glassell Student Art Sale!  
Friday, December 13 – 12:00-8:00pm
Saturday, December 14 – 10:00-5:00pm
Admission is free, and wares include well-priced works from Glassell studio artists — painters, ceramicists, jewelry makers and more — so it's a great way to shop local for the holidays. This could also be a fun trip for kids to pick out handmade items for their parents, friends and siblings.
The Sale is at the Glassell Studio at 5101 Montrose Boulevard, Houston, Texas, 77006.  Go HERE for more details.
View Larger Map