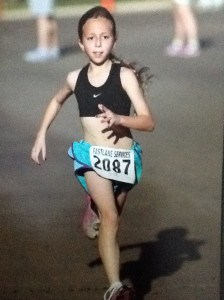 The Turkey Trot will be here soon!  Be sure to register!
In case you need some encouragement to get your body moving on Thanksgiving morning, read this sweet interview with nine year old Morganne Svoboda, the youngest participant in this year's 10K race!
No stranger to short distance races, just this year she has completed four 10Ks and eight 5Ks. We asked her how she got started running and why she decided to run the TXU Energy Houston Turkey Trot this year. In her own words, here's what she shares with us. Go, Morganne!
Are you excited about running in the 10K at the Turkey Trot this year?
I'm excited but a little nervous because my last 10K was in April and I know there will be a lot of people at the Turkey Trot.
Why do you love to run?
I love to run because my running buddy (my mom) cheers me on, and because a lot of people ask me questions and are amazed that I can run a 10K at my age. I run for fun now but I am going to try out for track as soon as I get to 5th grade. I also like to race because I get to add to my "Wall of Bling" when I win an Age Group Award.
How did you start running?
My mom encouraged me to start running 10Ks this past spring. I ran four 10Ks and eight 5Ks this year so far. I'm excited about running at Thanksgiving because it won't be so hot and I want to finish under 50 minutes.
What is your favorite part of a race?
I like to cheer people on in races, especially my mom, but I like to run more. I guess I like to be cheered on by the crowds. I usually get a lot of attention because I'm little. People say things like "go little baby girl" and "you're amazing." At the Green 6.2, one man said "look, there goes that little girl; she's going to beat us again!"
How do you train for running events?
I use the Runkeeper app on my iPhone. I practice four times a week with my mom; we run about 20 miles a week together.
Did you know that the  TXU Energy Houston Turkey Trot benefits Neighborhood Centers and Sheltering Arms Senior Services?
Yes I did and it makes me feel proud because I am helping others even as a kid. Everyone should have people who love, help and care about them.