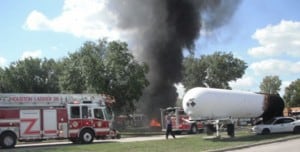 Our very favorite Houston annual event Houston Fire Fest… and it is this Saturday, October 19, 2013, from 10:00am-5:00pm!
Fire Fest is located at the HFD Val Jahnke Training Facility at 8030 Braniff, Houston, Texas 77061, near Hobby Airport.  There are live fire and rescue demonstrations, kid zones, vendors and more.  General admission and the demonstrations are FREE!  Last year there was a small fee for the kid zones and the money benefits the Houston Fire Museum.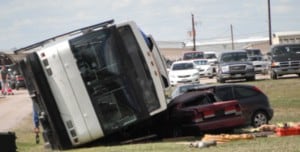 My kids know that when they go back to school, it's almost time for Fire Fest.  My biggest boy has been asking about it for weeks now!
He is very excited to spray the real fire hose, climb through the obstacle course, crawl through the fire safety house, watch the real firemen put out real fires and be a part of all the excitement.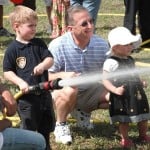 Check out our review from a couple of years ago HERE.
Be sure to mark your calendar for Saturday, October 19, 10:00am-5:00pm.  Pack your bug spray, sun screen, water bottle and favorite firefighters!
Come say hi if you wee us there!