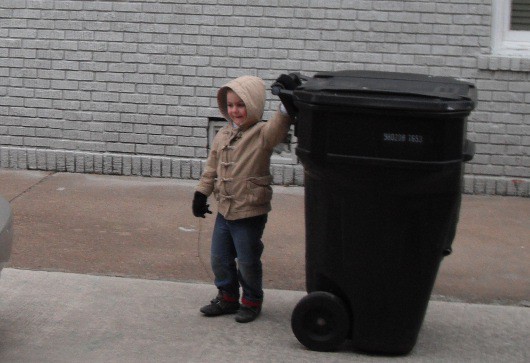 Updated July 2016
Friends – This post was originally published in 2012 because trash days and heavy trash days can be hard to find on the city's website.  This website is NOT a city website and is meant to help Houstonians.  It is NOT the official resource.
If you are having trouble finding your trash days, leave a kind comment and I can try to help.  If you want the official answer on trash days, call 311.
Wondering where to find your City of Houston Trash, Recycle and Heavy Trash Days? Go HERE and look for your zip code.  For the holiday trash pick up schedule, go HERE.
What is your heavy trash/junk trash, tree waste day?  As for November 2015, Tree Waste is collected during ODD numbered months and Junk Waste is collected during EVEN numbered months.  Tree Waste months are January, March, May, July, September, and November.  Junk Waste months are February, April, June, August, October and December.
The week they are collected during that month depends on your zip code.  This is where the search gets a little tricky.
Go HERE to the "My City Houston Map Viewer"
Accept and use the Application
Select the thumb tack on the right side of the screen
Type in your address and submit
Press "Solid Waste Schedules" button to view the schedule date.  It will say something like "1st Wednesday"… which is the 1st Wednesday during a Junk Waste month.
Did the garbage truck miss your block or your house? Did they leave a huge mess? Call 311 and they can send a truck back to your street.