I like to have a clean house.
That said, my house has not been clean since before my oldest child was born.  It has been clean for short periods of time, but has quickly been overcome by chaos.  My history seems to be that my house gets to be very clean and tidy while I'm expecting a new baby, starts to fall apart once I bring the baby home, and is a complete mess when my maternity leave ends and I return to work.  Realizing this pattern, this time around, I'm not only trying to clean my house with my extra nesting energy, but create new habits and short cuts to help my house stay clean and organized.  (Of course, I'll settle for clean-ish and mostly organized.)
I have been following
FlyLady
for a few weeks and really like their methods.  Go check them out.  My sink has been polished ever since I discovered them.
I've also developed a few tricks of my own.   My house is definitely not deep cleaned… but at least I'm not completely mortified if guests pop over or the mail lady glances in the window.
1.   Leave a box of cleanser or baking soda and scrub brush near  every sink.  As I notice globs of toothpaste, I give it a quick swipe.
2.   Leave a container of Clorox wipes in every bathroom. After my kids make their usual mess in the bathroom, I give it a quick clean up.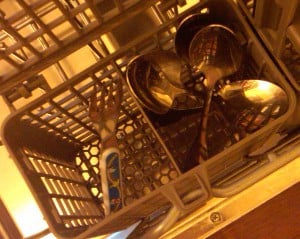 3.   Sort the silverware in the dishwasher.  As I add items to the dishwasher, I put all the forks in one spot, spoons in another, etc. It doesn't take any extra time, but it makes emptying the dishwasher much quicker.
4.   Sort the laundry as you go.  As the basket fills up, I put darks in one laundry bag, whites in another, brights in another, etc.  When one bag is  getting full, I just throw it in the washer.  Sorting it takes no extra time but doing the actual laundry gets a little easier.  (Now if only it would fold itself…)
5.   Leave a basket for shoes by the jackets.  This way my kids know where to look (and theoretically, they will put them away when they take them off).
6.   Add hooks to the kid's bedroom wall. My son changes fireman and train conductor outfits all day. The hooks make them easy to access and easy to clean up.
7.   Add an extra layer to the bed.  On the kid's beds, I have a waterproof liner, fitted sheet, waterproof liner, and another fitted sheet. When the sheets need changing (which seems like all the time), I can take off the top layer and not be in a panic about getting everything washed before bed time.  It is also helpful for middle of the night accidents.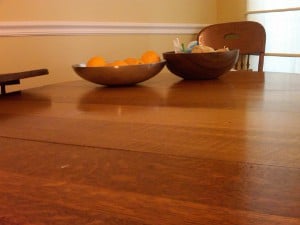 8.   Keep one problem area clean and clear of clutter. My kitchen table is a junk magnet. Each time I see it, I hate it and feel like I'll never get the house clean.  I've found that if I make the effort to keep this one spot clear, I am not so overwhelmed.
What tricks to you have?