As you do your Christmas shopping, you may want to consider looking at Plastic Jungle. Here you can buy, sell, exchange gift cards to a ton of stores. You can get gift cards for up to 35% off (or less for very popular stores) or receive up to 92% of the gift card value if you want to sell one you are not going to use. Shipping is free.
You can buy a plastic card, or you can get an eCode (on marked cards) to use right away. There are no additional fees, the cards do not expire, and it is always free to ship. You can find an "even" numbered card, say $25 to Home Depot, or you can get one that is something like $37.28 that someone probably got as store credit.
So… you could get someone a gift card for Christmas. Or, you could get a gift card (or eCode) and use it to shop for Christmas gifts.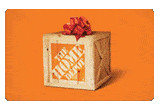 I thought this sounded a little too good to be true, so I purchased a Home Depot gift card, at 7% off of face value, and gave it to my Dad for his birthday. The card arrived in about a week. The card was accepted Home Depot with no issue and the advertised value was correct.
Go check out all the available gift cards HERE.   As long as you know you are going to shop at a certain store, it's a great way to save money even before the sale or coupons.