Check out Ebates to get cash back on most of your online purchases. Just sign up HERE and when shopping online, check Ebates first.  Just type in your store name in the search field and see if a rebate is available.
Also, if you sign up on Ebates now, you can select for a $10 gift card for Target, Home Depot or another store to be sent to you after you make your first $25 purchase.
For instance, today you could sign up for Ebates and then search for Crocs.  Click the link to Crocs and you will get 5% back on your purchase. 
Once you are on Crocs.com, follow the instructions from my Hip2Save post and get a great deal.
I just got this: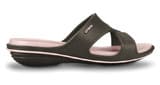 Log in through
Ebates
.
Click link to get 5% back.
Add 2 Woman's Emma Wedge to cart. (One is for my Mom's birthday.   Sure hope she doesn't see this.)
Use Coupon codes:
BOGO50
(for Buy One Get One Half Off Sale Items),
FALLSHIP
(Free Shipping)
Total is $31.23 for two pairs of Crocs.  (You can find cheaper ones too… I just wanted some Croc sandals  for myself!)
Receive 5% from Ebates separately.
Note that this Ebates link is my referral link.  You can go directly to Ebates if you prefer.  You'll get the same deal either way.