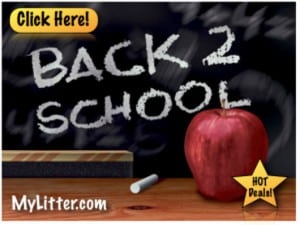 Can school really be starting in 2 weeks?  It's time to get our school supplies!
Luck for us, there are some great deals on back to school supplies going on now. If you pick up the bargains each week, you're sure to have much of what you need (for cheap!) by the start of school.
I've had a lot of questions on how to find these deals without running all over Houston. Lucky for us, a Houston area blogger is doing all the homework for us. Just go HERE or click on the Back 2 School box on my homepage. This will bring you to the list of all the current deals.
If you have everything on your list, consider grabbing some items to donate to your school or the community.
Thanks MyLitter.com!