The Chick-Fil-A 2013 Calendar is available now.  For $6, you can buy the funny Royal-T-Bones calendar at any participating Chick-Fil-A.  Inside is a "Calendar Card" that allows you to get a free item each month.
This is the first year that Chick-Fil-A is switching from coupons to the calendar card.  That said, it works the same.  For each card you have, you get 1 free item each month.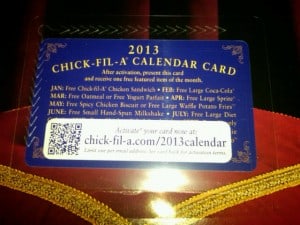 January:  Free Chick-Fil-A Chicken Sandwich
February: Free Large Coca-Cola
March: Free Multigrain Oatmeal or Free Yogurt Parfait
April: Free Large Sprite
May: Free Spicy Chicken Biscuit or Free Large Waffle Potato Fries
June: Free Small Hand-Spun Milkshake
July: Free Large Diet Coke
August: Free Chicken Salad Sandwich
September: Free Simply Orange or Dasani Bottle Water
October: Free Cookie Sundae or Brownie Sundae
November: Free Large Coca-Cola Zero
December: Free Chick-n-Strips (3 count)
In my experience, if you don't like something, Chick Fil A will probably make reasonable exceptions when you are ordering. So, if you do not like Coke Zero, you can probably get a free iced tea.