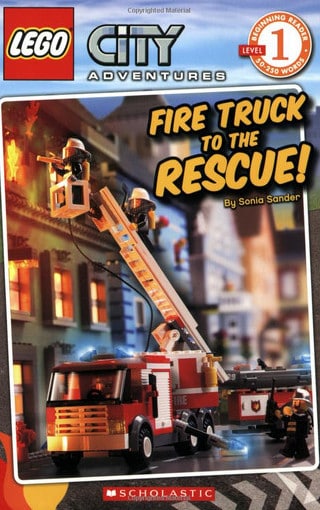 This is Jill doing the Sunday Book Review. Don't worry, Felicia's reviews will return on Thursday!
This one is of the Lego City Book Series
!
Now, unlike Felicia, my kids do not eat books up.  They like stories and reading is okay, but it's not really our thing.  And probably it's because it's not really my thing.
I do like to read a good book.  But really, I'd rather make something, solve a problem or play a math and science game with my kids.
That said, when it was time for kindergarten, I knew we needed to kick up the reading.  And it was the Lego series that got my son excited about reading.
My boy loves Legos and he loves firefighters, trains, police, airplanes and all things similar.  He received the Fire Truck to the Rescue!
as a gift and ate it up.
Since he couldn't get his head out of this book, I went to Amazon and ordered a bunch more: All Aboard!
, Ready for Takeoff!
, and Calling All Cars!
.  And there are even more.
And he ate those up too.
The books are cute.  They are basic and the titles pretty much sum them up.  The stories don't really teach a lesson, but I'd give my son just about anything to make him love reading.
If you are looking to get a young reader interested in reading, check out the Lego series.  Go HERE
to get started!