Houston is a big city but the more we know about it, the smaller it feels. In an effort to better understand how our city ticks, the BigKidSmallCity crew is interviewing the people of Houston!
This time we had the great pleasure of meeting Caroline Long of West University Wellness! In her own words, Caroline tells us about her family, her business and what she likes about Houston!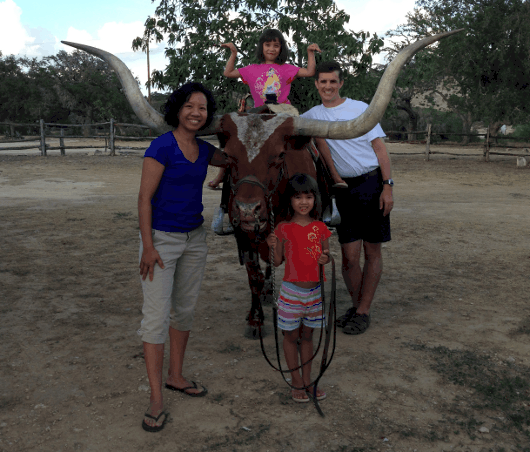 I was born and raised in Houston. I grew up in the suburbs and really thought Houston was boring. I went away for college but realized soon thereafter that Houston actually has a lot going for it. I also came to understand that it's the people and relationships that make a place a home.
My husband is from North Carolina but now he loves Houston almost as much as I do. We're excited to be raising our daughters here, but I've realized that for me, I prefer being closer to the heart of the city rather than outside the Loop.
I always wanted to be in healthcare, and over the years came to realize how much I wanted to be a chiropractor. We started West U Wellness almost 10 years ago and now offer chiropractic, acupuncture, massage therapy, Pilates, and other holistic treatments.
I specialize in pregnancy and pediatric chiropractic, and I feel we have carved out a niche in that area. It bothers me to hear pregnant women say, "My doctor said having pain while pregnant is normal and I just have to endure it for the rest of my pregnancy." No! There are gentle but effective treatments we can offer that make a world of difference.
What advice would I have for kids wanting to start their own business? Owning your business is not for the faint of heart! You make so many sacrifices, work longer hours than anyone else in the office, and usually are the last to get paid. However, if you're doing what you love it makes life so much more enjoyable. I also feel I'm setting a good example for my girls by showing them how hard work can pay off.
I have found the secret to success is relationships. You can spend lots of money in marketing, have a slick website, offer tons of promotions, but at the end of the day what keeps a customer coming back is the trust they have in your skills and forming a real relationship with those people you serve.
As for  what I like about Houston, I love the international flavor. All the languages that are spoken, the wide range of food, even the sports teams and variety of arts you can find contribute to Houston's amazing diversity.
My favorite thing to do in Houston is enjoying the arts whether it's seeing musicals, the symphony, or an exhibit at the museum. But eating out is a very close second!