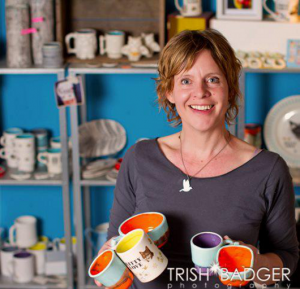 Houston is a big city but the more we know about it, the smaller it feels. In an effort to better understand how our city ticks, the BigKidSmallCity crew is interviewing the people of Houston!
This time we had the great pleasure of meeting Carole Smith of McCheek's Academy & McCheek's Mayhem!
The kids (ages 4-7) interviewed her to find out about her job and what she likes about Houston. Read on!
1. How did you become interested in ceramic art?
When I was at high school we had ceramics classes and I immediately loved it. It was my favorite thing to do at school. I then went on to art college and got my degree and postgraduate degree in ceramics.
2. Why did you start McCheek's Academy and what work did you have to do to start it?
I wanted to be able to have fun with kids and adults and show them how to make things and inspire people to be creative. The biggest part of the work to start McCheek's Academy was to promote my classes and think about different projects to teach.
3. What is your favorite part of your job?
Teaching classes and interacting with students, both children and adults, and seeing them get inspired and making things out of clay or crafts that they are really pleased with.
4. What tips do you have for a kid wanting to someday start their own business?
Think about what you'd really like to do, imagine yourself doing it and then go for it!
Running your own business means that you have to be prepared to work hard and keep at it. It takes time to grow your business so remember to be patient with it.
5. What do you like to do in Houston?
I really like the Menil Collection and the park around it. I like to go and see live music, drink coffee and socialize with friends.
6. What is your favorite thing about Houston?
I like that there a lot of space in Houston and I love the blue skies and sunny weather. I love being able to grow lemons and hibiscus flowers in my garden.
7. What is your favorite Houston annual event?
Craftidote - which is the annual craft market held at Antidote coffee in the Heights in December. I like that there are lots of people buying handmade gifts from local makers.
Photo Credit: Trish Badger