Location:
6002 Washington Ave Houston TX 77007
Age Appropriate:
All ages
Price:
$-$$
Hi, I'm Juliette! My husband, my 7-year-old and I love going out to eat and we are sharing our restaurant finds with you.
I hope you enjoyed the beautiful weather we had last weekend. We sure did and even found the time to go to a nice pizzeria: Candelari's on Washington avenue.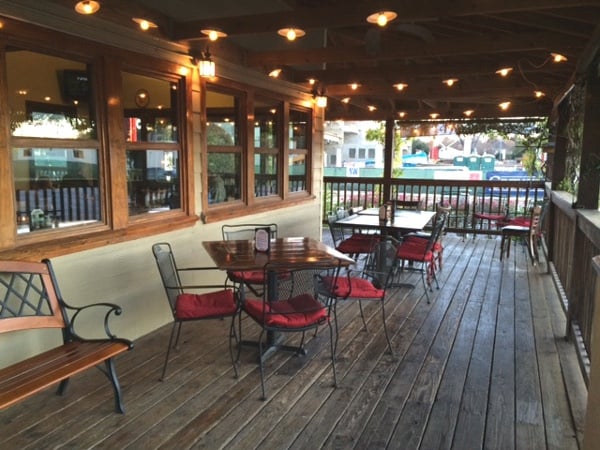 We usually drive by it when we come back from
Memorial Park
and it really looks inviting. I love the feel of their porch as you walk in, it looks intimate and casual and perfect for families. The interior continues with that welcoming feeling and the staff was really nice and friendly.
The dining room has several spaces with paper-covered dining tables and great brick arches in between the rooms. The bar is at the end of the restaurant and the kitchen is open. Their bathroom is equipped for little ones and is spacious and clean.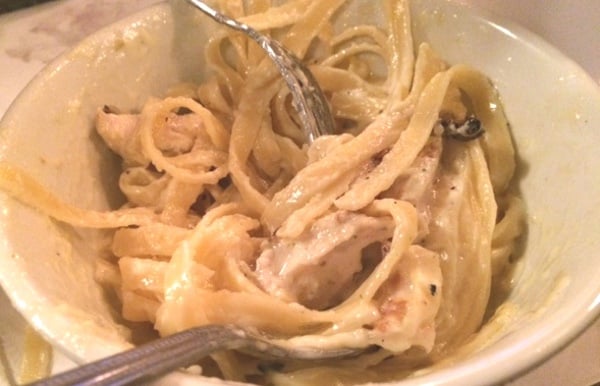 Our son got a fun menu with activities and crayons. He chose the Chicken Alfredo that came in a small bowl. If your child is really hungry and a big eater, it might be worth ordering the full size. However, it was delicious and the chicken was really good and tasty.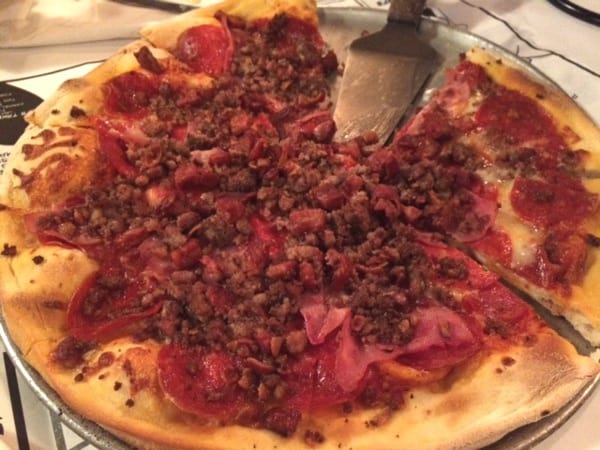 We were really looking forward to their famous pizzas cooked in a wood oven. My husband found a pizza made for him: the T-Rex which has all the meats you can think of combined on a pizza (Italian sausage, sirloin, bacon, pepperoni…). It looked great and the thin crust was really delicious.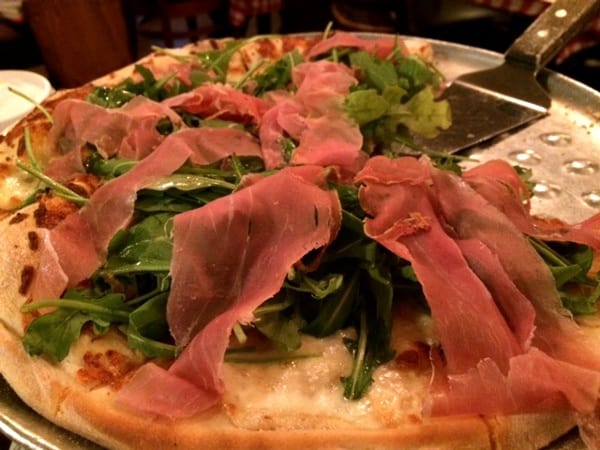 I ordered the Proscuitto E Arugula with prosciutto ham and arugula and the Italian cheese, Taleggio. The mix of the three ingredients was perfect and I loved the crust too. Our son enjoyed a couple of slices of this one.
We are still trying to improve our pictures in 2015… but it is not easy for us!! So don't let our pictures be your only guide about how wonderful Candelari's is, go and try one of their delicious pizza; your whole family will love it!
See you next week for another culinary adventure!