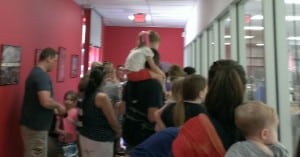 The BigKidSmallCity community largely consists of Houston parents and caregivers with elementary school aged children. In addition to meeting up online, we also have regular meet ups around the city at restaurants, museums, parks, factories, shops and other venues.
Would you like to reach a group Houston parents and have 20-50 people (per meet up) visit your business?  To bring our group to your business, contact me at Jill @ BigKidSmallCity . com.
Do you want to know how to better serve Houston parents?  Thousands of them visit BigKidSmallCity each day and can provide good insights for your business. What programs attract parents? What birthday party packages are appealing? Why aren't parents coming to your business? These are questions we can answer. Contact me at Jill @ BigKidSmallCity . com to start a discussion.