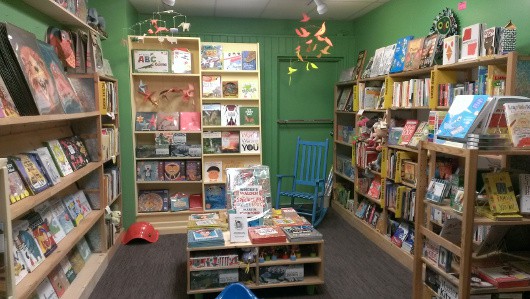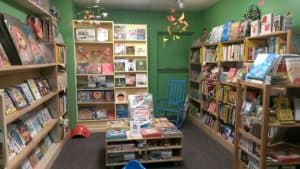 This is Felicia! My girls, ages 7 and 5, and I love exploring Houston and we love to read.
I do buy most of my household items off of Amazon, but often try to support small local businesses when I can. One of my very favorite places to shop is Brazos Bookstore and more specifically, I love their children's book corner.
The last time I popped in, I went in to purchase Goldilocks and the Three Little Dinosaurs: As Retold By Mo Willems, for a friend's baby, but also ended up leaving with a Frida Kahlo Paper Doll Book, the Cavendish Home for Boys and Girls, and A Monster Calls for my girls. Every book in their kid's corner is a winner and it is very clear that this special, little room is their pride and joy. One of the authors that they ALWAYS have in stock, whom I absolutely love, is Mo Willems.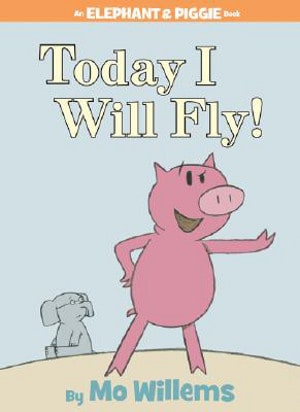 Aylen, my older daughter, is reading at a 6th grade level and Senia, my younger daughter, is reading at a 2nd grade level. I hugely attribute their early interest in reading to Mr. Willems. Both of the girls were sucked into reading at a very early age by his clever characters and short, but clever story lines. Aylen's very first book was Don't Let the Pigeon Drive the Bus and before she was 2, she had all the sight words in it memorized. For Senia, it was his Piggie and Elephant series that hooked her into reading. She loved Today I Will Fly and repeated in Aylen's footsteps, learning all the sight word in the book very quickly.
Another cherished book from the series is We Are in a Book. How many of you guys remember this vintage book: The Monster at the End of the Book? You know, the one that featured Grover jumping from page to page and then being the adorable monster at the end of the book? Mo Willems has Piggie and Elephant capture his audience in the very same way making them giggle uncontrollably while saying silly phrases.
I can't say enough nice things about Mo Willems's brilliance. He selects his words carefully and his illustrations are simple, but gorgeous. We have given out many of his books as gifts throughout the years. His books are clever enough to keep both the children and the adults, who read the bedtime stories, entertained.
So, the next time that you are in a rush for a birthday party, stop by Brazos Bookstore, and pick up a Mo Willems book. He has lots of series to select from! Parents always appreciate a good book and supporting a local business is always wonderful for the community!