Address: 914 Main Street #105, Main & Walker, Downtown Houston
On Sunday I took my kids on the Metro train for fun and when we exited at the Main Street Square stop, we ran right into Bombay Pizza Co.
It was very easy to get to from the red line, but the website says you can also park curbside for free after 6:00 on weekdays.
I was surprised to find Bombay Pizza Co. busy at lunch on Sunday since it is located downtown. Main Street had a lot of pedestrian traffic and a lot of people were eating out.
We ordered at the counter and took our seat while the food was prepared. The kids decided to sit outside and watch the trains go by.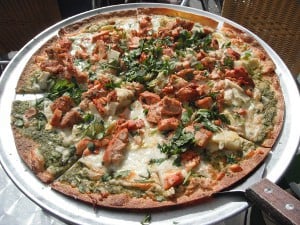 We ordered the 12" Gateway to India pizza which has tandoori chicken, real crab meat, artichoke hearts, fresh cilantro, mozzarella, provolone, cilantro-mint chutney on a paper thin crust for $15. It arrived in about 15 minutes and was delicious. The 8 slices were enough for 2 adults and 2 little kids... but when the kids get older, we'll need to order the 16" for $19.
We like Indian and Italian... and we liked the unique combination. If you are not excited about this, the restaurant has burgers, pasta and plain old cheese pizza.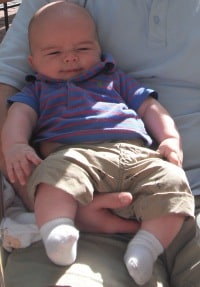 And, if you are keeping track, baby James came along for the ride, and didn't even sleep through lunch. He enjoyed the cool weather and trains with the big kids.
We definitely will eat here again.