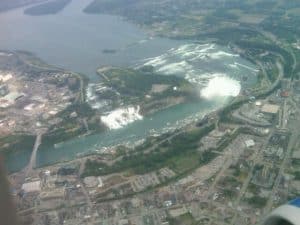 My 3 kids have been dropped off in New York and I'm headed out for work. At first the big kids were not sure of staying at Grandma's house alone, but once they remembered the sandbox, tree house, huge yard and stairs, they were eager to get me back to the airport.
Flying out of Buffalo, we took a turn over Niagara Falls. Did you know it's the largest producer of electric power in the world? I've seen it from land many times, but the scale and power may be best viewed from the air… or, from the Maid of the Mist tour boats that I saw from the plane window.
Check out video from the Maid of the Mist:
There is a USA dock and a Canada dock. Adults are $15.50 and kids are $9.00. Kids 5 and under are free!
Maid of the Mist has officially been added to our to-do list.