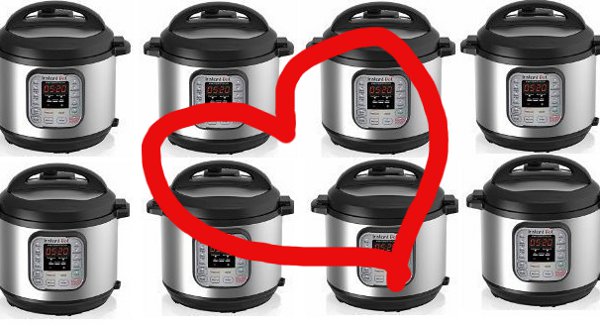 Well friends, I'm not sure how we got to be the people in love with a kitchen appliance... but it has happened and we are happy about it!
My friend, Felicia, is a great cook. My kids literally jump up and down when they get to eat at her house. Now with the Instant Pot Pressure Cooker, I've seen Felicia also jump up and down about making dinner. Read her love letter here:
Over the years, I have made several kitchen purchases that have immediately become regretted kitchen impulse buys. I am a mother to three kids and let's face it, I don't have a lot of time for anything.
Eyebrows, a clean living room and decadent meals have lately taken a backseat, especially since the birth of our newest addition. Over the years, I have toyed with the idea of purchasing a pressure cooker but with the horror stories that I have heard about them over the years, I always thought that they were just a recipe for disaster.
I will even admit, the first time I used it, I stayed out in the yard the entire time.
The past year, I have stalked the Instant Pot Pressure Cooker and longingly read the reviews... A roast in an hour? Tomato soup in five minutes? Tiny potatoes in five? Yes, please. After some research and reaching out to some friends, and while my husband was out of town, I made the executive decision to make the acquirement for my kitchen.
The day it arrived, I placed the Instant Pot on my kitchen counter and suspiciously eyed it for a full day while reading the instructions over and over. Still worried about maiming a family member, I wasn't rushing to use it and I cruised YouTube for instructional videos. I love YouTube. If nothing, it inspires a lot of false confidence in me.
After reading up on how safe these electronic programmable gadgets are I was ready. If the pressure for some reason builds up, the pot regulates itself. Here is a list of its safety features the website lists:
Safety Lid Lock prevents accidental opening while the cooker is pressurized
Pressure Regulator ensures working pressure to be under the safety limit
Smart detection of leaky lid (e.g. steam release is at open position)
Anti-blockage Vent design prevents food debris from blocking the vent
Using a magnetic sensor, Lid Position Detection monitors whether the lid is in an unsafe zone for pressure cooking.
Automatic Pressure Controller keeps pressure always in the safe range
Excess Pressure Protection releases excess pressure into internal chamber in a dangerous situation
Automatic Temperature Control regulates temperature based on the type of program being selected
High Temperature monitoring avoids burning food
Electrical current and temperature fuse cuts off power if the current or internal temperature exceeds safety limits.
The first meal I made with it was easy. It was a chicken legs and thighs. I used the saute setting on it to caramalize some onions and toast some garlic. I shut the lid added an extra two minutes to the poultry setting because I read somewhere that thighs needed a little extra time and made a salad. When I was done with the salad and setting the table, the timer dinged, I carefully let out the steam opened the lid and pulled out chicken that was so tender it was literally falling off the bone.
Tossing my skepticism aside, I skipped to my computer and ordered a second one. Did I mention my husband was out of town without phone service?
Ok. So you are probably wondering why I feel like I need two?Have I told you that I love these new kitchen appliances so much that I have placed them side by side on the counter hoping that they will fall in love and have a baby Instant Pot so I can make creme brulees in?
All kidding aside, in my head, what's the point of having part of your dinner ready in fifteen minutes? Rice and beans, lentil soup and potatoes, chicken and pozole done at the same time!
So far, I have made soups, potatoes, chili, roast with carrots and potatoes (I let the roast cook first and then added the sides when there was only three minutes left....sure I had to depressurize the Instant Pot and re-pressurize it, but seriously an extremely tender three pound roast in seventy minutes?) I forgot to add, three words. HOMEMADE TOMATO SAUCE! In five minutes if you have an immersion blender and can stick the wand in the pot.
It's already change my life. Four days after I bought it, I picked up the kids from school and started on dinner. I looked in the fridge and realized that there was absolutely nothing to make. I hunted around the pantry and thought, what the heck, I'll toast the large potatoes on the saute setting for a bit and then shut the lid and cook them on high pressure for eight minutes and see what happens. Well, what happened was we had really soft, loaded baked potatoes for dinner with a glass of milk and a side beet salad. The beets were steamed in the other pot in no time!
When my husband arrived home and made his face at my new best friends, I really felt like I had to defend their honor and pull out a delicious meal. I used this one that I found online and he hasn't made any side eyes since. I've drawn inspiration from many websites and have also just used my regular recipes with little modifications.
Another convenience about this machine is that it will keep the food you have created warm for eight hours after you have made it. I have made hearty soup at three while the baby was asleep and waited until 6:30 to serve it when my husband walks in through the door. I've even waited until five hours after the timer goes off without fear of breeding germs that cause food poisoning before dishing the leftovers into containers that the kids will take for lunch tomorrow.
And I almost forgot to mention the decadent, rich broths that I have been making using my new gadget. Pho? Sure! Let me first whip up some bone broth in an hour and add some noodles. I'm ready to donate my stove top to Goodwill, but first, I am going to take turns spinning my Instant Pots around the kitchen while singing, (I've had) The Time of My Life and yes. There may be twirling involved.