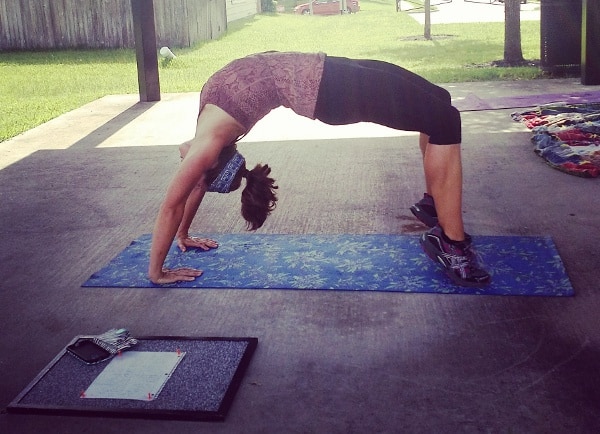 Remember
Laura Gettman
with No Excuse Mom? She's back on BigKidSmallCity with 4 Tips for Busy Moms to Stay Fit!
It is crazy hot outside during the day, and the evenings do not cool off too much to help balance the temperature. Most of the children in the area are home, all day long! For my family, we have gone from one or two meals together to three full meals with at least two snack times.
There is a lot about this time of year that could provide for excuses to not eat as healthy or to skip my workouts. With habits I have worked hard to form, I am able to get through these months without allowing summer break to break me.
Here are four basic customs I use to maintain my healthy lifestyle during the changed schedule of summertime:
1) Work on planning meals ahead of time. A few years ago I began to plan my meals a month at a time. I know this seems like a daunting task, but for someone who tends to be unorganized and is not a planner, I needed to implement this habit.
During summer with all of the kids home, the work load at home grows exponentially because there are more people to makes messes, so meal prep time can be difficult. I keep a flexible meal plan, meaning we can change it up if we end up eating outside of the home or happen to have missed one of the ingredients when buying groceries.
I also plan in left over nights, which I designate with a "LO" on the calendar. Part of meal planning is also prepping, so we try and take times to pre-cut vegetables or cook a pot of rice earlier in the day or make sure to get out anything that needs to be thawed.
Keeping up with this also helps us to eat healthier as we are making most of our food at home and have the ability to pick and choose what goes into our food.
If you are leaving on vacation, meal planning can help make healthier choices by knowing what restaurants you will go to or looking into healthier food made at home that you can take on the road!
2) Take time to play outside. This can be harder to think about with the heat and humidity that clouds the outdoors here in Houston.
To still accomplish this I plan trips to the zoo when it first opens at 9am, play in our front yard from 8:30am-10:00am (or choose the best time for your neighborhood that has less sun and less possibilities of mosquitoes), visit our community pool or play at splash pads found in parks all throughout Houston (you can add a link here to posts you have done before on parks) When I am outside, I tend to be more active as a natural result of trying to keep up with the kids.
3) Incorporate your kids into your workout. This can be done by choosing to workout in a place your kids have space to play without needing to interrupt you too much such as a park, making a fixed activity area inside your home near your workout space, utilizing child watch at your gym or literally incorporating them into your workout.
You can have your children join you in a basic yoga routine, a fun dance style workout with loud music or a specific workout with basic moves that you turn into a competition or a group challenge to accomplish.
4) Try to keep a stable yet flexible schedule. What?! That makes no sense! In my house, there are many moments throughout the day that I just stop and think (or say) "WHAT?!"
I have found that my kids desire structure. They like to eat meals and snacks at similar times each day, they wake up and get tired around the same time each day, they have a few activities that are their natural "go to when I'm bored" types.
With that being said, I have four kids and usually at least one neighbor kid hanging around for the day. Preferences of times to eat, wake up, what to play with, etc. can be different for each one! Compromise and flexibility are my solutions to the daily happenings. I have a general plan and schedule form in my head each morning when I wake up, but have accepted that I may need to be able to change in a split second.
For maintaining a healthy lifestyle, this mindset helps in every part of my life. When I accept the reality of life and stop focusing on my "ideal" daily life, I make better choices in what I eat, when and how much I work out, and how I keep a more positive mental stability. This may not make sense, but it works!
I hope that you are able to find ways to make your summer a memorable one as you hang out at home, get out and about the Houston area or get away for a vacation!